Paras Jain, a second year Respiratory Therapy student and Vice President of the Michener Charity Committee, knows just how meaningful toy donations can be around the holidays. A former SickKids patient for almost 11 years, Paras remembers how he felt when a hospital volunteer came to his room during the holiday season with a toy.
"Despite all that I was going through, my face lit up with the biggest ear-to-ear smile and all my worries seemed to wash away," he recalls. "That sense of gratitude, knowing that a complete stranger was thinking about kids who wouldn't be home during the holiday season, that was a feeling I'm never going to forget."
Last week, Michener's Charity Committee wrapped up its annual Toy Drive and delivered bags of donated toys to SickKids. Since early November, the Charity Committee had been accepting new, unwrapped toys through the Toy Drive and donations for toys through the 'Photos with Santa' fundraiser.
"On behalf of the Charity Committee, we'd like to thank everyone who supported the Toy Drive this holiday season," says Paras. "Your selflessness and generosity is truly appreciated."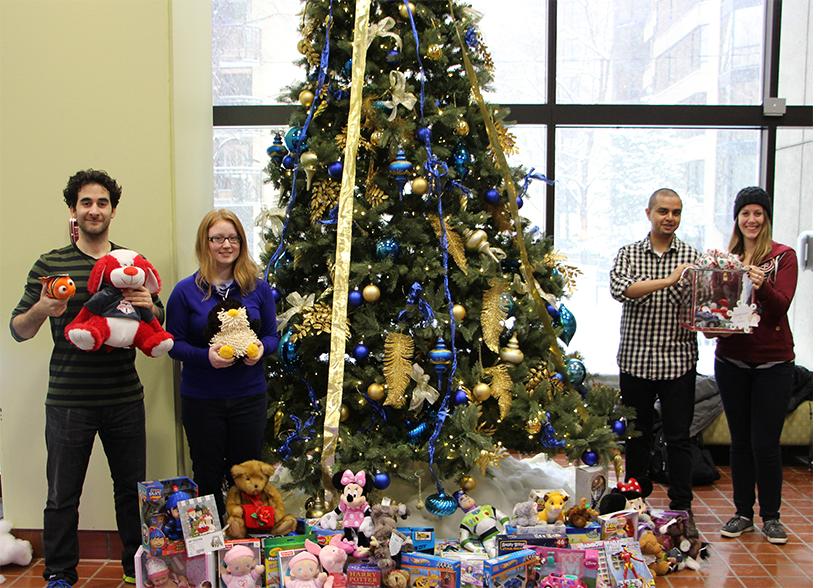 The Charity Committee is proud to say in addition to the bags of toys collected, they also raised a total of $220 for SickKids and non-perishable food items for the Daily Bread Food Bank. So far this year The Charity Committee has held many campaigns to raise money for worthy causes. Not only have they raised money for their holiday-driven campaigns, but also have given proceeds to The Sunshine Project and organized Movember at Michener.
The Charity Committee is a dynamic group of students who are passionate about serving the global community. The Committee is dedicated to providing students with opportunities to develop humanitarian skills through participation, discussion and ambassadorship. Paras explains that involvement in the Michener Community has been rewarding for not only his personal development, but his professional development.
"As future healthcare providers, one of the most important things we must learn is the value of teamwork," says Paras. He explains that his involvement in the Charity Committee has been rewarding not only personally, but also for his professional development. "Putting everyone's skills together and feeding off everyone's strengths is what makes a successful team. Being part of the Charity Committee has taught me just that."
The Charity Committee, which currently consists of 20 students from across all disciplines, is uniquely special because it is supported by the strong community at Michener. "Being part of the Charity Committee has allowed me to meet so many wonderful people in Michener's close-knit community," adds Paras. "Whether it is staff or students, I am truly humbled by everyone's willingness to help us achieve our goals. That's the Michener advantage, I am proud to be part of it."
Find out more about the Michener Charity Committee