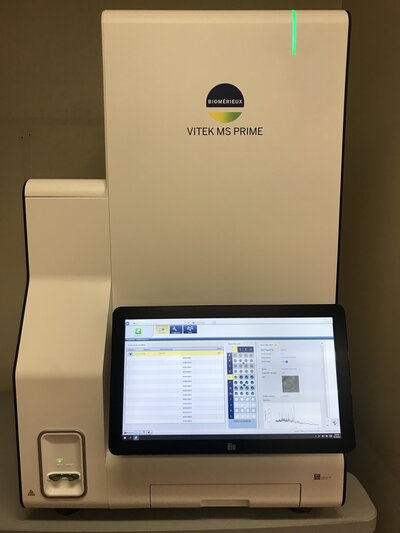 Starting this January, the Michener Institute of Education at UHN will become the only school in Canada to teach with the most cutting-edge microbiology instrument currently being used in a lab setting.
Matrix assisted laser desorption ionization – time of flight mass spectrometry (MALDI-TOF MS) was first introduced into routine testing in microbiology labs about five years ago. During the MALDI-TOF process, microbes are identified using either intact cells or cell extracts. The process is rapid, sensitive and economical in terms of both labour and costs involved.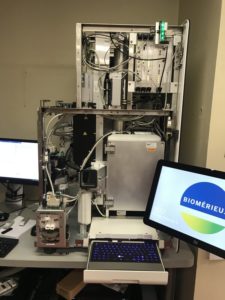 "This was a revolutionary technology that could save a lot of time by identifying bugs and infections days faster than traditional methods, thus allowing you to start the right antibiotics sooner" says Dr. Peter Bridge, Chair of Medical Laboratory Science at Michener.
Traditionally, microbiology labs would take samples such as sputum (a mixture of saliva and mucus coughed up from the respiratory tract) or a nasal swab and put them on a petri dish to grow the organism, which can take one to two days. Once the organism is grown, Medical Laboratory Technologists perform multiple tests to identify what species the organism is so that the patient can be prescribed the correct antibiotics.
What MALDI-TOF does is a direct analysis of uncultured or very minimally cultured materials within a few hours, rather than a few days. While hands-on knowledge of MALDI-TOF MS use is not currently required as part of the national certification exam for Medical Laboratory Technologists, the technology has now become the clinical standard of practice in hospitals.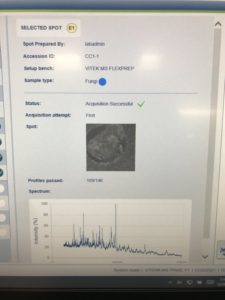 "A few years ago, Michener started teaching MALDI-TOF theory in its Medical Laboratory Science program and even managed to get a few sample files," says Dr. Bridge. "Now that the school owns the technology, it can be incorporated into our simulations so that students will have direct hands-on experience with this cutting-edge technology, and therefore go to the clinical sites better prepared and ready to use it."
Michener's machine is a second-generation model and only the second of this upgraded type to be installed in Canada. This newer model also has the ability to be integrated with existing microbiology instruments and act as a controller, allowing all of the equipment to work together simultaneously.
"We're very happy to have this equipment and very excited to start using it," says Dr. Bridge.