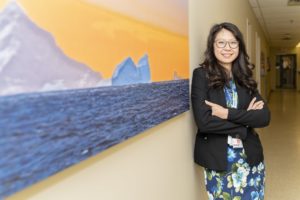 Jia Inacio started her career in health care on a different path from where she is now. A 2009 Michener Radiological Technology grad, Jia entered the field working in fast-paced clinics with a focus on women's imaging. Now, as a Diagnostic Imaging Manager for the Scarborough Health Network, Jia still works closely with women's health, but in a leadership role sparked by her continuing education and an interest in improving health care processes.
One of Jia's first jobs after graduation was at Princess Margaret Cancer Centre's Breast Clinic as a radiological technologist. There, Jia learned from some of the toughest breast cancer cases and met some engaging mentors. Princess Margaret Cancer Centre emphasizes higher education, which was one opportunity that gave Jia the chance to learn more about process improvement. "I was particularly interested in how to do things better and more efficient for our patients," Jia says.
In 2014, Jia began her MBA at the University of Toronto's Rotman School of Management where she was one of very few health care workers in the program. "Being in the business crowd was fascinating to me," Jia recalls. "It broadened my horizons and taught me how the world works outside of immediate clinical care."
When Jia was offered a leadership position at the Humber River Hospital to help build the new breast imaging clinic, she jumped at the chance. "This job played right into my strengths," Jia says. In this role, Jia used her business and clinical skills, and collaborated with oncology and surgery teams, to lead the launch of the breast health clinic.
Today, all of this vast experience has led Jia to a management position at Scarborough Health Network. As the Diagnostic Imaging Manager, Jia oversees day-to-day operations such as staffing and budgets, and she's playing a key role in setting up the radiology module (Radiant) for EPIC, a digital platform that manages patient records and clinical information for seamless care.
Of all the skills Jia has gained over the years, change management is the most essential in her work; this is how she's able to take on complex department operations and new digital tools like EPIC. "It's about process improvement for me," she says. "In our field, we use the newest technology and constantly need modern workflow. It's a lot of trial and error, thinking outside of the box and leveraging our networks and colleagues' knowledge. My MBA training really prepared me for this."
There are many Michener students doing their clinical placements in Jia's department, and she knows what to expect from them. "These students are our future colleagues," she says. "And when Michener grads apply for positions, I'm confident they're clinically competent because I know Michener's standards." For Jia, what's impressive about these students is that they have the most up-to-date knowledge and understand patient care.
When asked what advice she can pass on to Michener students, Jia says, "take an interest in how things work in your department and take initiative in making it better. Change happens around us all the time anyway, so jump right in and help drive it. We will always need your fresh set of eyes."