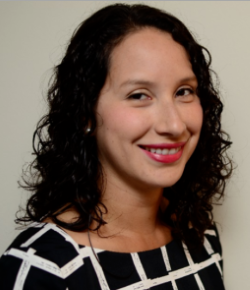 As the blood transfusion laboratory manager at UHN, Alioska Escorcia faces a litany of daily challenges including high patient volumes, emergency cases, occasional blood shortages and always tight timelines.
But the Michener alumna is taking it all in stride.
"I am constantly learning new things and building on the knowledge that I have," she says. "It's not a one-person role – everyone contributes. I'm fortunate to have such a great team with a wealth of experience. Each person is extremely committed to the job they do."
Alioska, whose vast academic background was supplemented with an advanced diploma in Applied Health Sciences from Michener in 2010, oversees a staff of 54. An integral player in the UHN management team, she supports and advances the Laboratory Medicine Program to accommodate a steady stream of patient needs. Her role supports the blood banks at Princess Margaret Cancer Centre, Toronto General Hospital and Toronto Western Hospital.
After graduating from Michener, Alioska became a medical lab technologist in the Blood Transfusion Lab. She has worked as a teaching technologist, representing the UHN blood bank to new students. In 2014, she became the transfusion safety officer, assuming responsibility for the quality and safety of transfusions at UHN. At the same time, she became a member of the Safe Blood Transfusion Practices Committee and the Hospital Transfusion Committee where she played a key role in policy development and quality review initiatives. Both roles proved to be major stepping stones to her current managerial role.
"The blood bank is a dynamic workplace. Fundamentally, we test a patient blood sample and, when products are requested, perform compatibility testing in order to provide the right product for the right patient when they need it, almost always under time constraints," she explains.
In some cases, patients whose surgical procedures are likely to require transfusions have their blood drawn prior to surgery at preadmission clinics. The samples are transported to UHN's blood transfusion lab and tested by Alioska's team prior to the procedure date.
"If a patient requires matching beyond the ABO/Rh or has other special requirements, blood is ordered from Canadian Blood Services in order to meet that patient's need" she says. "In extremely complex cases, a national search for blood is conducted."
Cases range from monthly transfusions for conditions like sickle cell disease to emergency situations "where the whole team has to do their best to handle the cases as they come in."
"Michener provided a fundamental education that was supplemented with practical experience, clinical knowledge and placement where I could put theory into practice. It was a great way to explore an interesting and rewarding career choice."