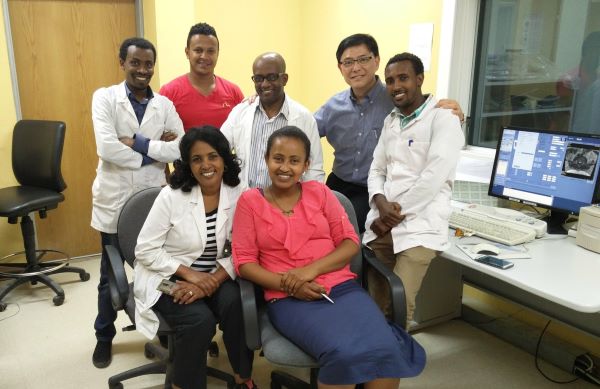 Michener alumni are known for their leadership and the support they provide to their team, but stepping up for fellow health care workers halfway across the world is exceptional, even by Michener's high standards.
Ken Pui was part of the first graduating class of Michener's MRI program in 1999 and he now works as the MRI Charge Technologist at Scarborough Health Network. In 2016, he received a call from a colleague who was volunteering at a hospital in Addis Ababa, Ethiopia and she needed advice on an MRI machine that was donated to the hospital.
"She was asking me questions about scanning a patient, and I couldn't just explain what she needed over the phone," says Ken. "The next day, I booked a flight to Addis Ababa."
Ken saw an opportunity to share his knowledge not only on how to operate an MRI machine and read scans, but also on clinical readiness and communication in a health care team.
"MRI isn't only based on theory. You need to see how it works and apply different methods depending on the patient's condition," says Ken. "I wanted to give this group knowledge that they could then pass on to their colleagues and future technologists."
When Ken arrived at the hospital and met the team in Addis Ababa, he started his teaching from scratch. He brought over basic textbooks for them to read and reviewed images that the team would typically see when they perform a scan.
"The machine they had was older and refurbished, so they couldn't perform some tests. I had to experiment with the machine to see what it could do," Ken recalls.
The team learned through Ken's images and guidelines, and used them as quick references to see what they were supposed to follow. Ken focused on the leadership skills that he gained over his career and encouraged the group to self-correct as they learned – an aspect of teaching that he learned at Michener and he often relies on with his colleagues back in Canada.
A small group of technologists shadowed Ken for two weeks, and by the end of that time, the group was able to perform routine scans and examinations on their own.
For Ken, his time with the team in Addis Ababa was an example of how to help your colleagues be at their best. He says that the medical field isn't just about performing tests and diagnoses – it's about people, and that includes colleagues: "If we're going to work together, I want you to be the best you can be."
When he thinks back to the lessons he learned from the experience in Addis Ababa, Ken says to never hesitate when an opportunity comes up: "I made up my mind quickly to go and support this team, and I'm so glad I did."