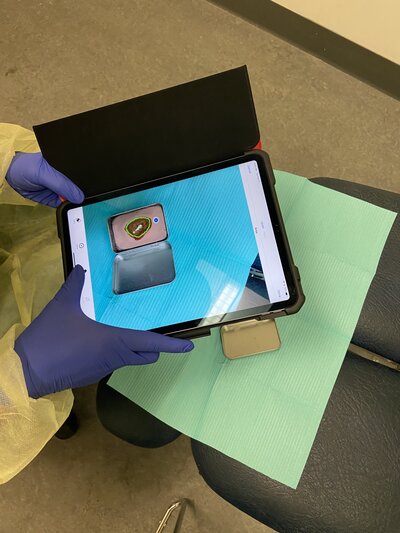 In Canada, 30 to 50 per cent of all healthcare involves a wound that, without regular care, can drive hospitalization, amputation and even death.
Enter the pandemic. Older, comorbid patients at the highest risk for wounds are also at the greatest risk of COVID-19 complications. While public health measures have helped limit the spread of the virus, many wound patients can experience greater difficulty accessing the wound care they need.
To help ensure continuity and accessibility of care for wound patients in the home and community, a consortium of leading Canadian organizations came together to launch Telewound Care Canada, a virtual care initiative designed to help patients connect with their care teams while reducing unnecessary travel and in-person care.
The Michener Institute of Education at UHN was invited to participate, along with five regional health systems, hospitals and home and community care providers during the initial pilot phase. This phase aimed to provide a mobile application that enables patients to take pictures of their wound, share them with their healthcare provider and conduct a virtual consultation – all while allowing providers to gain visibility into healing trends, risks and needs.
Teams at Michener, including the Centre for Learning, Innovation and Simulation and the Chiropody department, completed the program developmental evaluation of phase one in December 2021 and were successfully awarded additional funding for phase two to be completed by December 2022.
"The project saw early successes such as rapid response to the vulnerable street community that prevented emergency room visits and amputations, and ensured faster wound healing," says Jordan Holmes, Senior Manager, Centre for Learning, Innovation and Simulation at Michener.
This project would not be possible without a $2.5 million strategic investment from the Digital Technology Supercluster – an independent, not-for-profit organization that mobilizes industry-led collaboration and co-investment across the health, natural resources and industrial sectors.
Following the success of phase one, Michener was awarded additional funding for phase two of the project, with the objective of developing several clinical learning modules.  Michener will conduct an evaluation of the first module with key stakeholders from Swift Medical to gather feedback and improve subsequent modules.
"With the Telewound Care Canada initiative, Michener will continue to support the Canadian health care system by producing a generation of health care professionals with strong digital technology skills on top of their superior degrees of competency and compassion," says Dr. Brian Hodges, Executive Vice-President of Education and Chief Medical Officer at UHN.