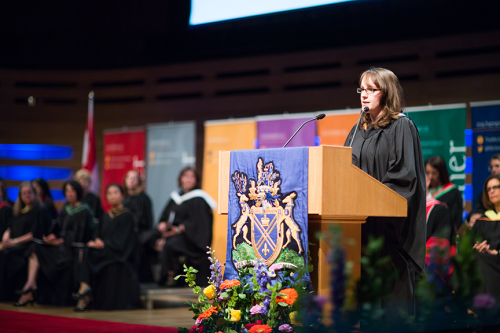 Eryl Fraser isn't sure what led her into healthcare. After she graduated from the University of Toronto in 2011 with an Honours Bachelor of Science degree specializing in biology with a minor in English, she says she found herself in Michener's Medical Laboratory Science program thanks to an interest in medical testing and, as much as anything else, luck.
Although hers was a gradual process to finding what she knew would eventually become her calling, in her valedictory address to Michener's 2016 graduating class, she said no matter what brought her classmates to Michener, they all stayed for the same reason: "Because what we do matters."
"In our careers, we will be witnesses to both tragedies and miracles," Eryl said in the address. "We will see people on their worst days of their lives, and if we're lucky we'll help make them a little better."
Surrounded by friends, family, faculty and staff from Michener and University Health Network (UHN), Eryl was one of 260 students to graduate from The Michener Institute on Saturday. It was the first graduation ceremony since Michener integrated with UHN in January, and was marked by reflections on the vast changes to health care brought on by technology and innovation, and the elements that will always remain the same.
Read the full story on the UHN Newsroom