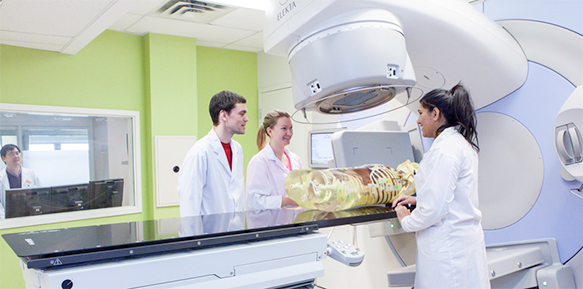 Elekta, a human care company pioneering significant innovations and clinical solutions for treating cancer and brain disorders, and The Michener Institute for Applied Health Sciences are enhancing the simulation experiences for the next generation of radiation therapists thanks to the addition of Clarity® to Michener's radiation therapy training suite.
Clarity, installed with one of Michener's existing Elekta Synergy® treatment systems, uses sophisticated 3D ultrasound technology to outline and track soft tissue targets for accurate patient positioning during radiation therapy, without the need for additional imaging dose or invasive procedures. The addition of Clarity grants Michener students access to state-of-the-art technology that will give them the confidence and competence they need to practice in modern treatment environments.
"Thanks to Elekta's ongoing generous support of Michener's renowned radiation therapy program, our students are well prepared to provide quality patient care using the modern technology found in today's hospitals and cancer care centres," says Dr. Brad Niblett, VP Operations, Michener Institute for Applied Health Sciences.
Michener closely monitors technological advances in radiation therapy and constantly updates its curriculum so that students are competent in the latest innovations. The entire radiation therapy process – from treatment planning to treatment delivery – can be simulated in-house at Michener.
"Michener is the only educational institution in Canada with two linear accelerators," adds Dr. Niblett. "The addition of Clarity to our state-of-the-art training suites will only expand our ability to provide unique, real-world simulation experiences in ultrasound guided radiation therapy and further position Michener as a national leader in this area."
Clarity joins several other pieces of Elekta technology that Michener has installed over the years, including MOSAIQ® Oncology Information System in 2007 and two Elekta Synergy systems put in place in 2010. In addition, Michener also provides students with treatment planning systems.
"Michener is an exceptional venue for students to learn more about non-invasive imaging technology associated with radiation therapy," says Jay Hoey, Executive Vice President, Elekta North America. "Clarity is among Elekta's most important imaging solutions for radiotherapy and gaining knowledge about the patient and clinical benefits of this class of products will serve students well.
"Since 2007, Elekta's investments and gifts in kind at Michener have contributed significantly to our vision of interprofessional collaboration and enhanced simulated learning," adds Dr. Niblett. Elekta also contributes CAD 2,000 to an annual scholarship fund aimed at supporting radiation therapy program students in their second and third years of study.
About Elekta
Elekta is a human care company pioneering significant innovations and clinical solutions for treating cancer and brain disorders. The company develops sophisticated, state-of-the-art tools and treatment planning systems for radiation therapy, radiosurgery and brachytherapy, as well as workflow enhancing software systems across the spectrum of cancer care. Stretching the boundaries of science and technology, providing intelligent and resource-efficient solutions that offer confidence to both healthcare providers and patients, Elekta aims to improve, prolong and even save patient lives. Today, Elekta solutions in oncology and neurosurgery are used in over 6,000 hospitals worldwide. Elekta employs around 3,500 employees globally. The corporate headquarters is located in Stockholm, Sweden, and the company is listed on the Nordic Exchange under the ticker STO:EKTAB. Website: www.elekta.com.
About Michener
Established in 1958, The Michener Institute for Applied Health Sciences is Canada's only post-secondary institution devoted exclusively to health sciences education. Michener offers full-time and continuing education in Imaging, Medical Laboratory Sciences, Medical Radiation Sciences, Primary and Critical Care and other specialized applied health programs. Michener is publicly funded through the Ministry of Health and Long-Term Care and further enriched through partnerships with universities, private sector companies and leading health organizations. Learn more at www.michener.ca.