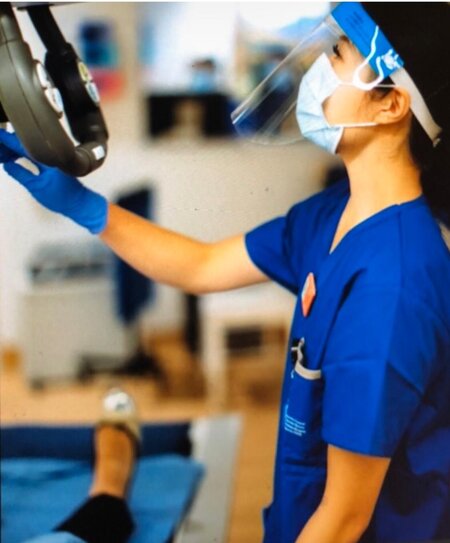 Last year, The Michener Institute of Education at UHN partnered with the Joint Department of Medical Imaging (JDMI) to begin developing a new opportunity at UHN for students in their final year of a medical imaging program.
The program involves hiring students as Clinical Externs to work casual shifts engaging in unregulated duties such as stocking supplies, patient transport and communication, and setting up scan rooms. While it mirrors a Ministry of Health and Long-Term Care-funded model established to mitigate shortages in other professional groups (primarily nursing), this specific program is funded by JDMI.
"We've had several staff experience burnout as a result of the pandemic and lost staff for periods of time if they've had to isolate due to contracting Covid-19," says Caitlin Gillan, Manager of Education and Practice, JDMI. "This has especially affected areas like General Radiography in the Emergency Department and Computed Tomography (CT), so our hope was that these students could provide extra support to the departments most in need."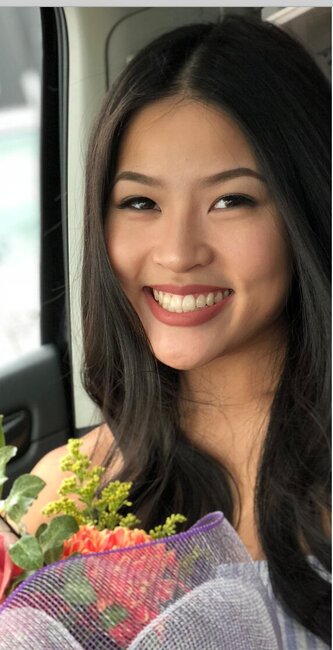 Nine Clinical Externs were hired to work evening, overnight and weekend shifts, including seven from Michener (two Ultrasound students, two Nuclear Medicine students and three Radiological Technology students).
Vicky Lu is in her final year of the joint Radiological Technology program at Michener and the University of Toronto. In addition to completing her clinical year at UHN, she began working as a Clinical Extern at Toronto Western Hospital in February.
On the days she works as both a clinical trainee and an Extern, she can spend up to 16 hours at the hospital between both shifts. While working as a clinical student, she's permitted to practice skills like positioning the patient, completing documentation and operating the X-ray equipment. However, when she makes the switch to working as an Extern, she's no longer able to do some of these things as she is not working in the capacity of a student for a regulated profession.
"What I like about working in both roles is that I occasionally have some time as an Extern to slow down and observe what the technologists are doing," says Vicky. "Because we rotate to different departments every week during our clinical placement and it's a fast paced environment, you can sometimes forget how things operate in each area. Getting more hands-on experience as an Extern has been helpful for solidifying that knowledge."
Cindy Chiu, supervisor of the Breast Imaging, Ultrasound and Prostate Centre at the Princess Margaret Cancer Centre has been supervising clinical students for about three years, and also oversees medical imaging Externs.
"It's been lovely to have students who bring a fresh energy and interest in the work we do," she says. It's great being able to introduce them to this field and I've also found them very helpful in providing feedback on how we can improve the training experience for future students."
"We see this program as a huge win – for our technologists who could use the support, for the students who are excited to gain different experiences and pick up some cash, and as a great example of the value of our tight linkage between JDMI and Michener," says Caitlin Gillan.
This initiative has also served as a valuable recruitment opportunity and immersive job interview. UHN has already pro-actively hired a number of these Externs to join the JDMI team as full-fledged technologists following graduation and certification later this spring.