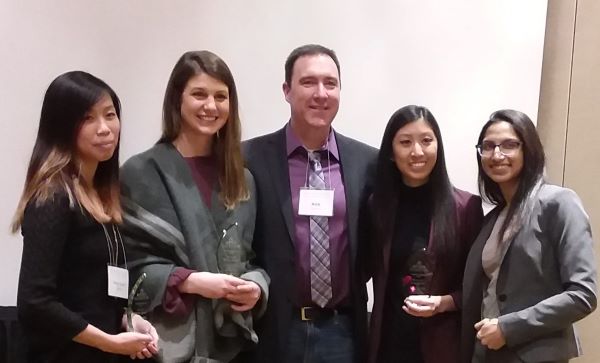 Through awards and presentations, Michener was well represented at last month's Better Breathing Conference held at the Toronto Marriott Eaton Centre Hotel.
Hosted by the Ontario Lung Association, the Better Breathing Conference brings together health care professionals from many disciplines focused on respiratory health.
Michener Respiratory Therapy alumni and several clinical partners presented award-winning posters at the conference.
Amanda Rampersaud and I Chia Shirley Quach, graduates of Michener's Respiratory Therapy program, received Student Achievement awards based on nominations by Michener faculty. The awards recognize leadership ability, contributing to a positive clinical environment, communication skills and promoting the profession through involvement with the Respiratory Therapy Society of Ontario, their educational institution or charitable organizations.
Finally, Nancy Garvey, a past member of Michener's Respiratory Therapy program advisory council and retired Senior Program Consultant for the Ontario Ministry of Health and Long-Term Care, received the Gord Hyland award for her contribution to the respiratory therapy profession.
Congratulations to the award recipients!