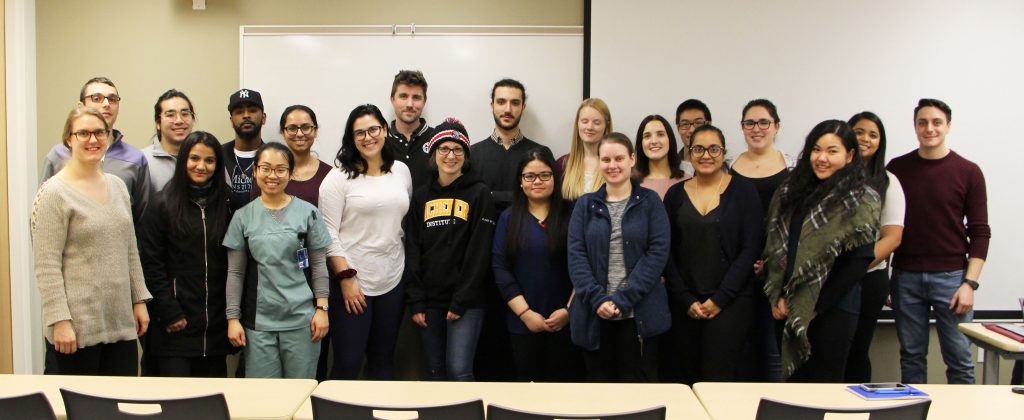 For the first time this year, Student Council at The Michener Institute of Education at UHN hosted an event to recognize Bell Let's Talk Day on January 30, 2019. Held in the lobby of the St. Patrick Campus, the event prompted students, staff and faculty to write what mental health meant to them on posters, which they could then take a photo of or display on the wall.
"Everyone really is affected by mental health in one way or another, whether it's someone they know, family members or even themselves," says Cristian Tarea, second-year Radiological Technology student and Student Council President. "We wanted to help the initiative that Bell was leading to spread awareness."
Bell Let's Talk Day began in September 2010 to raise awareness and funds, and combat stigma surrounding mental health. With the approaching campaign on their minds, Student Council met in early January to discuss what they could do to support the initiative and open the conversation around mental health.
"This was something I felt a lot of students could get behind because much of it is social media use," says Cristian.
To prepare, the group consulted the online Bell Let's Talk Toolkit, which includes a Conversation Guide for talking to someone you are concerned about, as well as pre-made stickers, posters and social media images to share
"At first, people seemed a little nervous and were unsure what to write, but once they had an idea, they were writing some inspiring things," says Cristian. "Someone wrote 'it's just a bad day, not a bad life,' things that really spoke to me and others."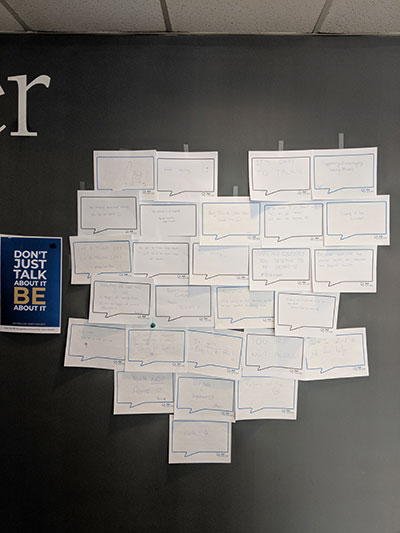 The event received much positive feedback and many seemed touched by the effort to recognize how mental health has affected individual experiences.
"What I find in my program is that people get a little too stressed with the season. When the weather is poor and they have a lot of exams, they're not very concerned about their own physical or mental well-being," says Cristian.
To help others relax during this stressful time in the school year, Student Council will be hosting additional social events, such as a movie night and Super Smash Bros. video game tournament.
"I feel that this is really important for students because going into the health care field, you will deal with patients who suffer from mental health issues, so being aware of the problems or implications that it poses is something that's beneficial," says Cristian.