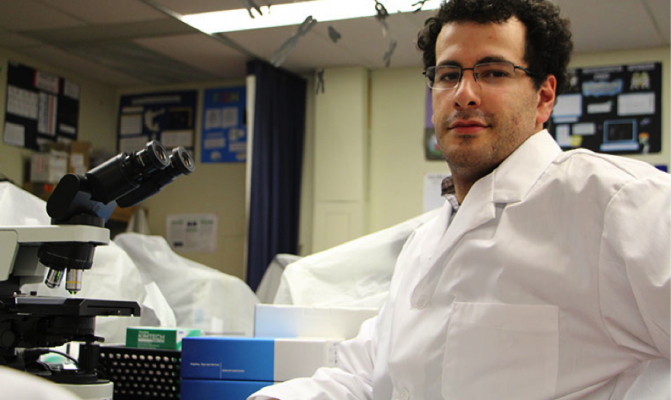 Students at The Michener Institute, an academic partner dedicated to supporting Ontario's healthcare system, are getting a hands-on introduction into quality improvement (QI) through a new partnership with the Institute for Healthcare Improvement (IHI).
Launched in July 2014 to first- and second-year students in response to the increasingly important role healthcare professionals play in QI initiatives, the IHI modules equip students with the fundamental knowledge of the principles of quality improvement as they relate to patient safety, system efficiencies, interprofessional development and leadership.
For second-year Genetics Technology student James Thurber, he considers the QI curriculum as having given him the ability to think not just about quality improvement, but how to nurture change in a healthcare setting.
"Genetics is a rapidly expanding field and thus testing methods can change rapidly with new technology such as next generation sequencing. Therefore I see that my role is to work with my colleagues to identify ways we can constantly improve testing methods by implementing new technologies and tactics into our work," says James. "The curriculum helped me understand how to properly integrate change opportunities into the healthcare environment."
Ultrasound student Christine Jones agrees. Christine also participated in the QI curriculum and saw immediate applications for her as she takes the first steps towards her career in sonography.
"Quality improvement will be largely focused on increasing efficiencies to reduce wait times, a common theme in healthcare," says Christine. "This curriculum is valuable because it shows students how to solve problems that occur specifically in healthcare. The module took us step by step through different case studies which showed us how to apply learnings from the past to future scenarios."
Valued as an increasing priority in clinical practice, quality improvement principles are focused on creating patient-centered, interdisciplinary approaches to enhancing patient care. Michener now joins a growing list of organizations in Canada that have adopted the QI curriculum, rolling out the curriculum across all of its full-time applied health sciences programs.
In 2013, Marc Potvin, Manager, Academic Business Development at Michener began exploring how to integrate QI more fulsomely into Michener's academic curriculum. He believes that QI projects "are not top-down projects but have processes that are actually led by front line staff. It would make sense, then, that the same healthcare professionals who deliver patient care should be the same people involved in quality and system improvement initiatives."
The systematic approach towards quality improvement uses evidence-based best practices to empower front line staff to contribute to improved patient care and a stronger healthcare system. "Through the IHI partnership, Michener offers a high-quality, flexible online QI curriculum with tests that are progressive, cumulative and highly applicable," says Marc. The development of the QI curriculum was supported by the University of Toronto's IHI Open School Chapter.
Additionally, the curriculum teaches students about the transferability of QI concepts, which can be applied from one clinical environment to another. By partnering with the IHI, Michener students are now gaining the foundational knowledge to enhance patient experiences, system efficiency and safety through new applications of system design and leadership.
"The QI curriculum has given me a distinct advantage as I now have confidence to apply my learnings in a practical way and to make an immediate contribution to QI in the workplace," adds Christine.