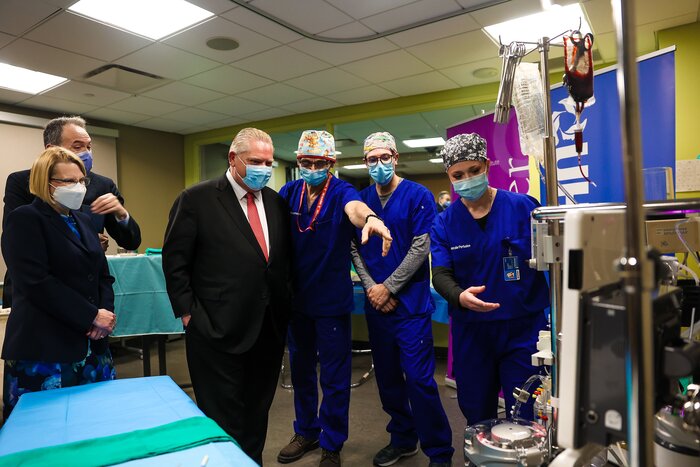 On December 1, 2022, Premier Doug Ford and Deputy Premier and Health Minister Sylvia Jones came to The Michener Institute of Education at UHN to announce a more than $4.6 million investment to remove financial barriers for nurses wanting to upskill to work in critical care.
Prior to the funding announcement, Premier Ford and Health Minister Jones toured a fourth-floor operating room simulation set-up at Michener, and spoke with two of the school's Cardiovascular Perfusion (CVP) students and CVP professor Constantine Dalamagas.
First-year Cardiovascular Perfusion student Aaron Ballard started his career working as a sound engineer and recordist for a TV/film post-production facility in Toronto after studying at Fanshawe College. He spent a few years doing that before heading back to school for nursing and receiving his Bachelor of Science in Nursing from Western University in 2019. Aaron began working at a large academic teaching hospital and quickly progressed to working in critical care. It wasn't until working as a nurse in the intensive care unit that he discovered CVP.
"I wanted to participate in the operating room simulation because I thought it would be a great opportunity to represent the program and Michener, as well as increase awareness of our profession and make some connections along the way," says Aaron.
"Premier Ford and Health Minister Jones were easy to talk to and were quite interested in the Heart Lung Machine and learning more about the critical role perfusionists play in cardiac surgery. They were also surprised to learn how niche of a group we are as perfusionists, with fewer than 400 CVP professionals across Canada."
Before beginning the CVP program at Michener, first-year Cardiovascular Perfusion student Madison Howatt worked as a Registered Respiratory Therapist at Saint John Regional Hospital in New Brunswick after completing her Bachelor of Health Sciences in Respiratory Therapy.
"I'm honoured to have been asked to participate in the Premier and Health Minister's visit to our school," says Madison.
"I was excited for this opportunity to participate in a new experience, and their visit served as excellent publicity for Michener."
With Ontario's health care system continuing to operate under stress from COVID-19, as well as influenza and respiratory syncytial virus (RSV), the increasing health human resources shortage being experienced provincially and across the country is causing fatigue and burnout amongst frontline health care workers.
"With the Premier's announcement of new funding for nurses wanting to upskill in critical care, I think Michener has an opportunity and a duty to increase the supply of these essential health care workers and to help alleviate current health human resource challenges," says Aaron. "While focusing on critical care capacity is a necessary step, work remains to increase the capacity of nursing as a whole and other health professions throughout our hospitals."