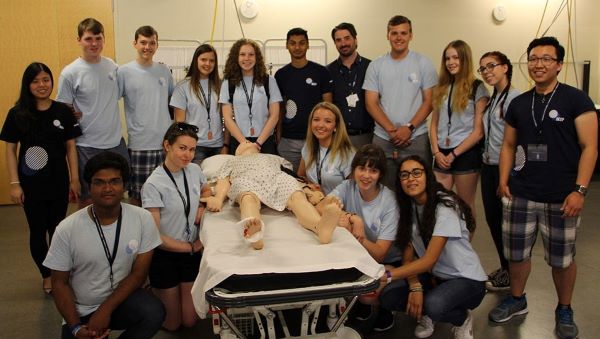 When Judy Tran thinks back to her time in high school, she recalls being a timid student interested in science and engineering, starting to think about what her future might look like.
Now a medical laboratory technologist at Toronto General Hospital and The Michener Institute of Education at UHN's 2017 valedictorian, Judy is helping students who were just like her think about their futures.
Over the summer, Judy taught a one-week course on engineering in surgery through the University of Toronto's Da Vinci Engineering Enrichment Program (DEEP) Summer Academy, a pre-university outreach program promoting science, technology, engineering and math to students in Grades 9 through 12 from around the world. The program is designed to expose bright, motivated students to concepts usually presented in undergraduate courses, giving them a head start on exploring options for university.
"I was a DEEP student when I was in Grade 9, and this was my third summer as an instructor at DEEP Summer Academy," Judy says. "I see myself in these students and I'm amazed at how much I've grown – from being in their position to where I am today."
Judy kept an open mind about her career path early on, and she wants to show students how important that can be.
"I didn't know about Michener when I was in high school, and I want the DEEP students to know that Michener is an option for them."
As a DEEP instructor, Judy was able to design her own curriculum. She focused on showing students real-world examples of applying engineering and design to patient care.
Michener's Centre for the Advancement of Simulation Education (CASE) was the perfect venue for her course, giving students access to high-quality simulation facilities, technology and equipment that they would never see inside a high school classroom.
See the first-hand connection
The students toured the CASE facilities and did a team-based CPR exercise with a mannequin that simulates real medical symptoms. Through the exercise, students saw first-hand the connection between engineering and health care, and how technology can be used to support and sustain life – an impressive demonstration for the tech-savvy students.
When the students met the CASE staff, they had the chance to talk to professionals who share their passion for science and technology, but work in careers the students never knew existed.
Jordan Holmes, the Manager of Learning, Innovation and Simulation at CASE and an electrical engineer by training, knows the significance of exposing these students to the CASE environment.
"It can be easy to forget that the core value of engineering is humanity," Jordan says. "Engineering and health care share a value-base, and the intersection of these disciplines presents exciting career prospects."
Judy understands DEEP instructors are a source of inspiration for their students, but says the students have also given back to her.
"Their curiosity and passion encourages me to be a lifelong learner and an engaged member of my community."
"My hope is that these students will recognize the range of possibilities that are open to them," she says.