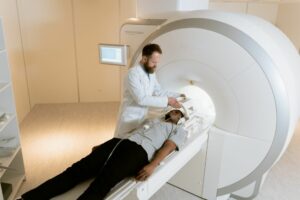 At the height of the pandemic in 2020, Michener's Clinical Education team and our clinical partners moved quickly to give students the crucial hands-on experience to complete their programs while keeping them safe from COVID-19. Now, with everything the Clinical Education team has learned over the last two years, their role has shifted beyond student placements and into new health care initiatives.
Last year, Brockville General Hospital received provincial support to install an MRI machine at their site to serve patients in their community who require MRI scans. With the goal of opening a new MRI department by 2023, Brockville General turned to Michener to train qualified, skilled MRI technologists to run the new department.
Three staff members from Brockville General joined Michener's MRI program this past fall and will complete their clinical placements at imaging sites in the Kingston and Ottawa regions. When these students successfully complete the MRI program and pass their licencing exam, they will join Brockville General's MRI team and get the new MRI department off the ground.
"Our clinical partners are very receptive to working with us as operations return to normal," says Día Gonzales, one of Michener's Clinical Placement Coordinators. "In the case of Brockville General, and with many of our partners, it's no longer just about securing clinical placements. It's also about understanding the current industry needs and helping increase human resource capacity."
This agreement with Brockville General puts Michener and the Clinical Education team in a position where they can help a health care partner with high-level staff training through our programs and clinical placements. "In this case, preparing qualified technicians will directly impact our partner's ability to reduce wait times and the number of patients transferred to another imaging location," says Día.
The partnership is also an example of how Michener is helping evolve health care delivery as we move into the recovery stage of the pandemic. According to Día, "We're not only sourcing frontline mentorship in our clinical placements anymore. We're now communicating in new ways with our clinical partners around their changing needs and preparing students to contribute to growth in their chosen health care fields."
All this new work means that Michener benefits as well. Clinics and hospitals are reaching out to Michener for student placements beyond the current academic year, which could mean more options for students.
"Another outcome of these relationships is that Michener has more insight into broader health care needs and reinforces our reputation as a flexible education partner," says Dia. "All of these relationships can lead to increased enrolment for Michener and more opportunities for our students."