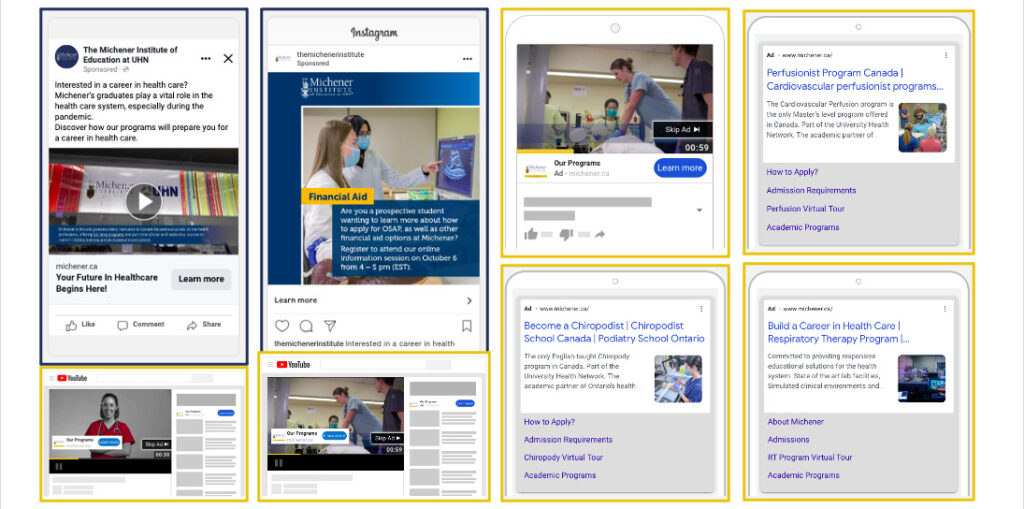 Over the past three years, application numbers in the post-secondary sector have been unpredictable. In the wake of COVID-19 and the rising cost of living, some schools have seen a drop in applicants during the time of year when they would normally see their highest numbers.
Michener has seen this shift as well, but the difference is that our change in numbers is not a surprise. Instead of pushing to increase applications, Michener is targeting a smaller group — the best and most qualified applicants possible. And this means relying on focused digital marketing campaigns to reach this very specific audience.
Grace Acosta, Michener's Associate Registrar for Enrolment Management & Systems, and her team are constantly planning new ways to reach and engage with this select audience, and they've had to get creative and think outside of their usual recruitment plans.
"We make a recruitment plan, but we intentionally don't stick to it," says Grace "This means that we make changes based on what we're hearing from our market. We listen to their needs and questions, then tailor our messages based on this. We don't just stick to what we know – we're constantly improving."
This approach boils down to a more thoughtful style of communication, including live online information sessions, QR codes directing people to the right webpages on our site and the virtual tour, which gives applicants a real-life sense of Michener's learning spaces.
Another important piece of Michener's recruitment is the Strategic Enrolment and Marketing Committee (SEM), which helps drive our recruitment goals, looks closely at market data to help make informed decisions and maps out a communications cycle. The Committee is led by Associate Head of Academic Affairs Lori Peppler-Beechey and meets bi-weekly. It includes members from Michener's Communications, Recruitment, Registrar's Office, Academic Chairs, Continuing Education and Institutional Research teams, plus a consultant from Academica Group.
"SEM is driving the goals that we set for recruitment. It's helped us see the bigger picture and this insight is crucial for our recruitment cycle," says Grace.
Chiranjiv Phull, Michener's Digital Marketing Lead, is a key member of the SEM Committee, and his digital campaigns and the data he gathers are part of the momentum that pushes recruitment forward.
"Our aim is to always learn from each recruitment cycle. In our digital marketing, we look at many factors that tell us about web traffic and we narrow down the online marketing platforms that bring us high-quality applicants," says Chiranjiv.
Chiranjiv's campaigns allow him to follow the audience's actions on our website, such as visiting program and admissions pages or clicking on our virtual tour, and he can isolate the visitors who are genuinely looking for program information from visitors just browsing the site. Chiranjiv can then streamline his digital campaigns and messaging to this engaged group for an extra push to apply.
Michener's success in targeting the best candidates for our programs is partly because health care careers are in demand right now, but it's also due to the data-driven and strategic goals set by two strong teams working closely together.
"With the work that Grace and I are doing together, plus the SEM Committee's guidance, we're not afraid to take on new challenges," says Chiranjiv. "We use our learning and the communication between our two departments to shape a successful recruitment cycle and engage the best applicants."
Click here to view a short presentation about Michener's digital marketing campaigns and the most recent stats that show our audience's engagement.