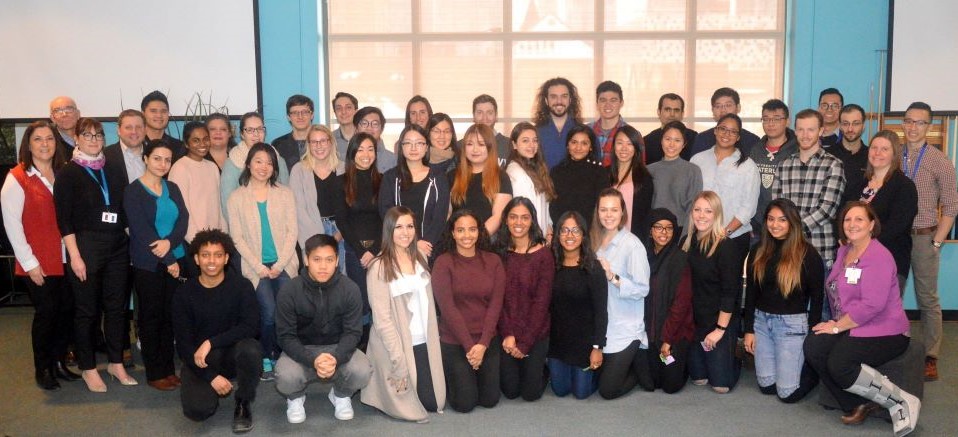 The first lesson Kathy Hilario learned as a Michener Radiological Technology student was to place her anatomical markers correctly during the patient positioning stage of a radiological exam. This was in 1988.
Jump ahead 30 years, and marker best practice is still the first lesson Radiological Technology students learn in the program. Anatomical lead markers are used to distinguish the patient's right side from left on a radiographic image, and show that a radiological exam is oriented properly. They help technologists and their team avoid risk and medical errors.
On January 8, the Radiological Technology Department at The Michener Institute of Education at UHN celebrated the program's first-year students at the annual marker ceremony, where faculty welcomed students to the profession of diagnostic imaging and gave each of them personalized anatomical markers to use throughout the program and later as practicing technologists.
Now the Manager of Imaging Operations at The Joint Department of Medical Imaging, Kathy was a guest speaker at the marker ceremony. She used the opportunity to reflect back on her time as a student in the program and the lessons she relied on throughout her career.
"If we forgot our markers at home, anxiety and worry would kick in," said Kathy. "A key component of the radiograph would be missing."
As digital radiography became more popular, technologists were able to mark a patient's right and left side electronically through the imaging equipment, avoiding the use of traditional markers altogether. But relying on digital markers leaves room for error since they are often applied after the exam is complete.
This was a clear message to students at Michener's marker ceremony. As Kathy stated, "with new technology, it became easy to forget to use our markers, but this puts the technologist, radiologist and institution in a liable situation."
With  faculty, students and industry partners gathered together, the marker ceremony is a perfect time to communicate the importance of safety to today's Radiological Technology students.
Susan Weltz, the Academic Chair of Michener's Imaging Programs, understands the value of addressing safety as students receive their markers for the first time. "This ceremony sets the stage for accountability in the profession," she says. "The first-year students are learning about responsibility and safety, and this is an important lesson as they move forward in the program and their career."
Michener's marker ceremony ended with students reciting the Radiological Technology Student Oath, holding their new markers in hand and pledging in front of faculty and peers to use their markers in every radiographic image they produce "in order to facilitate accurate diagnoses and treatment of patients."
This oath goes hand in hand with Kathy's message. Using anatomical lead markers correctly is not only best practice, she says, "it defines the profession of Radiological Technologists."