With the help of The Michener Institute's state-of-the-art simulation facilities, researchers at University Health Network (UHN) are looking into the effectiveness of simulation training to help practitioners identify and manage errors that occur in clinical practice.
Michener was recently host to a radiotherapy pilot study and educational event run by cancer researchers from UHN's Princess Margaret Cancer Centre. The study involved a simulation exercise, co-developed by Princess Margaret's Dr. Jean-Pierre Bissonnette and Dr. Robert Thompson, and Michener's Marc Potvin, Manager of Business Development and Jordan Holmes, Manager of Michener's Centre for the Advancement of Simulation and Education (CASE).
The goal of the study was to see if simulation helps identify errors.
At the simulation event, radiation therapists, radiation oncologists and medical physicists from Princess Margaret and the Odette Cancer Centre at Sunnybrook Health Sciences Centre explored cases modeled on actual incidents that had occurred in the past at cancer centres in the Greater Toronto Area. They participated in either a group discussion that detailed case events, or observed live simulation. They also watched video recorded simulation scenarios produced at Michener to assess and look for any potential errors that occurred.
Marc Potvin explains that if the results of the study show that simulation helps practitioners to identify errors, simulation will be further integrated into error identification training at UHN. That training, he says, will likely take place in Michener's simulation suites.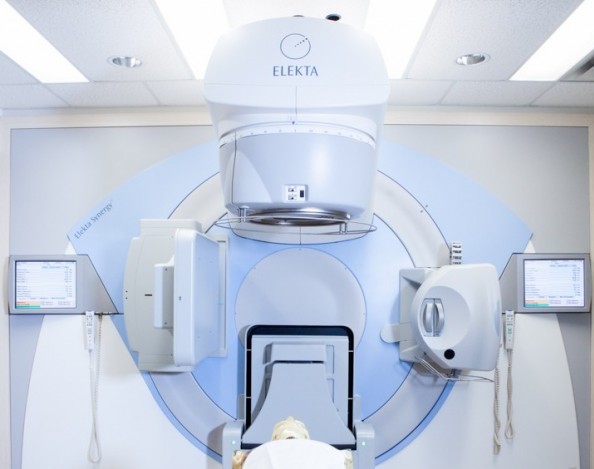 Marc says that particularly for radiation therapy training, Michener's facilities are unique. Michener is home to two linear accelerators, the machines most commonly used for external beam radiation treatments, almost identical to those in hospital radiation oncology departments.
"Michener's linear accelerators feature computer generated beams that do not emit any radiation," says Marc. "You can safely perform a mock treatment from start to finish and have no perceivable differences between Michener's simulation machines and clinical machines."
As Michener integrates with UHN in the coming weeks, there is immense potential for researchers, students and clinical leads to explore how Michener's simulation suites can be used to expand simulation learning across the health care spectrum.
"Simulation allows us to produce an error event in a safe environment," Marc says. "It's the opportunity to embed yourself in a scenario without concern that you're going to cause harm."