A unique website for a unique organization.
Welcome to our new website. We've redeveloped it with you in mind. And we feel it better reflects Michener's one-of-a-kind brand and value proposition to our students, our partners and the healthcare system.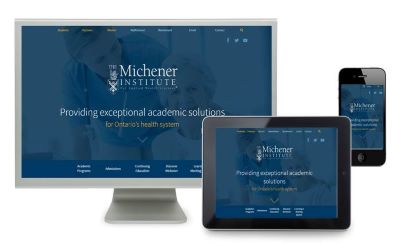 Developed in partnership with Soshal Group, our new website has focused on a number of new features:
Responsive Design
Our website now takes advantage of the latest trends in design and function. It's development using responsive design — making the website experience consistent no matter what device you view it from — make it easier to access the content our visitors want and need when on the go, at work, in the classroom, and everywhere in between.
Experience-Centric Navigation
From our immersive homepage to selected pages within the site's content, we've made efforts to ensure that our new website provides an improved user experience aimed at serving the needs of prospective and current students, healthcare professionals, alumni and partners.
Access to Compelling Content
There's lots going on at Michener, and we've got a lot to be proud of. Our new website will make it easier for us to share compelling stories and important information — including those about students, partners, alumni, donors and faculty — with our website visitors. We've also taken steps to improve the content that's available to our website visitors, streamlining where we needed to streamline, augmenting where we needed to augment. Users and stakeholder perspectives contributed directly to the development of our new website.
Integration with Social Media
Engagement with our social media properties has increased dramatically over the past year and we're poised to help take our social media channels to the next level, through a better interface and relationship with our website and its content. It's an integrated approach so that we get maximum value for our reach efforts, while ensuring that the content remains meaningful for those who want information to help them make important decisions.
Enhanced User Tools
A new events calendar and improved website display and forms will make it easier for visitors to learn more about Michener, manipulate the information they're looking for, and through easier-to-use interfaces.
Improved Program/Course Search-Ability
We're not just talking about a website search, but a fulsome program and course search database that allows students and healthcare professionals to easily and quickly research their desired courses and programs, an important feature that operates reliably consistent across both computer and mobile platforms.
Web Accessibility
Our new website design and webpage content conforms to Access for Ontarians with Disabilities Act regulations concerning the Customer Service and Communication standards, which apply to online communications.
Part of an Ongoing Evolution
Our new website isn't the end, it's just the beginning. We'll continue to look at ways to enhance the web experience for users through ongoing functionality, design and content enhancements, including harnessing the growing power of video and social media. Be sure to check back often to see what's new.