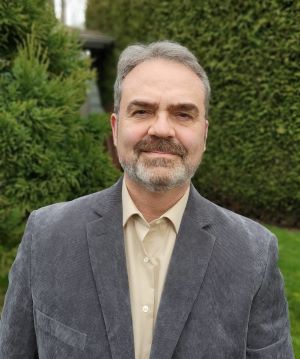 Paragon Orthotic Laboratory is a family business that was founded on the idea of giving back to the community. That's why it was a natural step for Paragon and its President, Sean Cornwell, to support a Michener chiropody student starting their career.
"My dad was a podiatrist, and he started the company out of our family garage almost 50 years ago," says Sean. "I guess I was his first employee when I was a kid."
As the company grew and focused on prescription orthotics across Canada and the UK, Paragon stayed true to its roots and the Victoria-based business never lost sight of its priority to take care of others in need and help communities grow.
With the support of Victoria Immigrant and Refugee Society, a non-profit organization that helps immigrants, refugees and new Canadian citizens settle into Greater Victoria, Paragon hires refugees new to Canada who are often from turbulent situations and trains them to work in the orthotics lab.
"Most of our staff are immigrants and refugees with families," says Sean. "This isn't temporary work. We hire workers with the idea that we're creating craftspeople and giving them a career. Our goal is to create a work environment where our employees and their families can afford a life in Victoria."
Sean knows that every prescription orthotic represents a patient with unique needs, and his staff require intense training and specific skills to get each product right. Sean's staff are trained to learn every facet of the trade, from computer skills to the glue room. The staff's dedication and their range in orthotics knowledge is reflected in Paragon's product. "We take pride in this process." Sean says.
The sense of community support at Paragon extends to education. With Michener offering the only English chiropody program in Canada, donating to Michener's student awards fits well with Sean's vision and he's honoured to be a first-time donor to Michener's awards this year.
"Michener's student body is a very diverse group, and it's important to me to foster diversity in the Canadian workplace," he says. "I know that Michener grads are our future clients. If we can support student success, then it's success for our business, too."
When asked how he feels about supporting future health care workers and relieving some financial stress in a student's life, it's an easy answer for Sean: "There are a lot of opportunities to build on what my father and I have created. It feels terrific and I hope to do more."