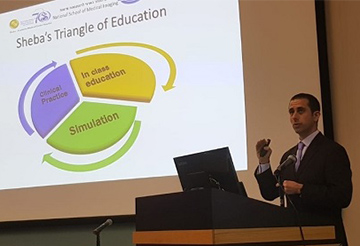 Last summer, the Centre for Learning, Innovation and Simulation (CLIS) and the International Centre for Education (UHN ICE) hosted their first Personalized Learning Program (PLP™) in Simulation at Michener's St. Patrick Campus. The learners, Salim Bader and Ronen Bercovitz, joined us from the National Training Center for Imaging Professions at Sheba Medical Center, the largest hospital in Israel, to learn from our experts about simulation in health care education, as well as the future of imaging education.
During their PLP, Ronen and Salim learned about Simulated Participant Methodology, toured Michener's Library and the Joint Department of Medical Imaging (JDMI) and met various Michener and UHN leaders.
This past April, Salim and Ronen returned to Michener to participate in Wavelengths2019, Michener's first annual research symposium that recognizes the growing interest in developing quality improvement and research competencies among imaging technologists. At the symposium, Salim and Ronen presented on "The opportunities and risks associated with artificial intelligence in the imaging profession" and "A new education model for image technologists at Sheba Medical Centre."
Recently, Salim and Ronen shared their thoughts on their experience with us:
What were the biggest takeaways from your PLP in simulation and medical imaging at Michener?
During the PLP, we saw the kind of work and advancement that is taking place at Michener in imaging professions. This confirmed that we're on the right track in our thinking and planning. We are the only school in Israel that is fully focused on medical imaging, so it was great to see colleagues across the world with a similar vision.
We also built a great relationship with the teams at Michener and plan to continue our collaboration through regular teleconferences and information sharing. We believe that both our institutions have the same values and mission, and that is the recipe for a great partnership!
Since your return home, how has the PLP learning changed your current practice?
We presented our learning and ideas at the last Radiographers Conference in Israel and it definitely created some noise. We're working on becoming recognized on a national level and believe that more schools need to implement similar ideas. We are very lucky that Sheba Medical staff and management are supportive. They understand the value of providing this education to the next generation of RTs in Israel.
What did presenting at Wavelengths2019 mean to you?
It was a big honour to be part of Wavelengths2019 and a great opportunity to be able to give a lecture to our colleagues here. We present at technical conferences often, but this is the first time we've talked about concepts and ideas on how we can design the future at an educational institute. It was very exciting!