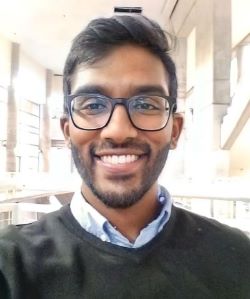 After completing his Honours Bachelor of Science degree at McMaster University, Braveenan Nirmalan was in search of an educational program that would set him on a career path and offer him hands-on experience.
Through his research, he discovered Chiropody and thought it looked like a challenging career that was in demand and would allow him to make an impact on the lives of the patients he served. He applied to the Chiropody program at the Michener Institute of Education at UHN and began the program in 2018.
"Michener was my top choice after undergrad as I was excited to dive into it and attend a school that is part of the University Health Network," he says.
Now in his final year, Braveenan is the recipient of the 2020 President's Scholarship. Established in 1997, the President's Scholarship is presented to a student in their graduating year who has contributed to student life, demonstrated leadership and set an example as a team player in the lab and classroom.
Braveenan has been heavily involved in extracurriculars at Michener, including being a peer tutor, library assistant, residence don, participant in soccer and volleyball intramurals and volunteer for Student Success Network (SSN) events, including Orientation and school tours.
"Treating patients in the Michener Chiropody Clinic was a very profound experience for me, as this was the first time I was able to work directly with patients and experience what my future career had in store for me," he says. "After getting a taste of that, I haven't looked back once!"
Braveenan says some of his favorite memories at Michener have included making and fostering lifelong friendships with people who he looks forward to working with in the future. Additionally, the close-knit community at Michener has allowed him to develop friendships with SSN staff and faculty in the Chiropody program.
"Unfortunately the Covid-19 pandemic has affected the clinical year for my program," he says. "Normally, we would complete clinical placements at four different locations throughout the year, but it has now been reduced to two."
Nevertheless, he's aiming to get as much hands-on experience as possible by seeking out additional learning opportunities. On his days off, he tutors other Chiropody students in the years below him and shadows at a foot clinic.
After graduating next year, he hopes to work in the Greater Toronto Area and maximize his competence, confidence and network so he can eventually open his own clinic and serve the communities he has been a part of for years.