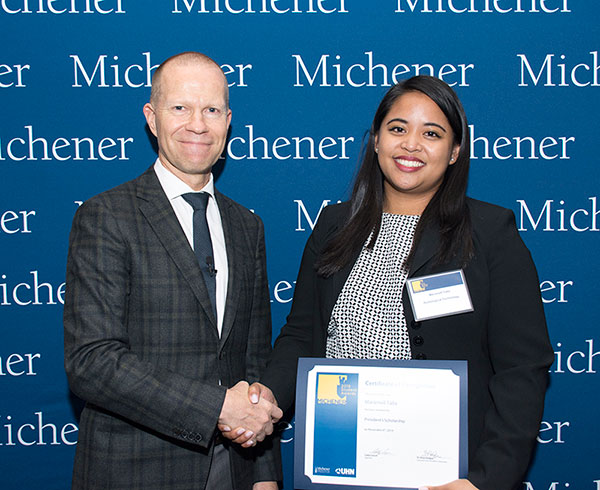 Marienell Talla comes from a long line of health care professionals, so it's no surprise she was eager to work in health care too.
After high school, she attended the University of Toronto (U of T) to study life sciences with the intention of later entering a health care program. Two years into her undergrad, she was accepted into the joint Radiological Technology program at The Michener Institute of Education at UHN and U of T.
"I found the program and thought it was really good that you could get a Bachelor of Science and an Advanced Diploma in three years, in addition to gaining clinical experience," she says.
Now in her final year, she is the recipient of the 2019 President's Scholarship. Established in 1997, the President's Scholarship is presented to a student in their graduating year who has contributed to student life, demonstrated leadership and set an example as a team player in the lab and classroom.
Last year, Marienell was elected as a member of U of T's Interprofessional Health Care Students Association – a non-profit interdisciplinary group that aims to facilitate collaboration and communication among health care students and the community. She was also a part of Michener's Student Council and collaborated with students and faculty to plan several events.
Her dedication to her profession and the health care community has not gone unnoticed by her instructors.
"Marienell is an excellent ambassador for our program and The Michener Institute as demonstrated by the level of her extracurricular volunteerism and research activities," says Alex Gontar, Instructor, Radiological Technology. "She's always willing to help other students, and has a very friendly demeanor and positive attitude."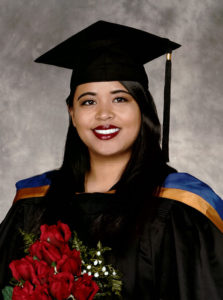 Marienell says some of her favourite moments at Michener have been post-exam celebrations.
"My program is pretty close and we all have exams in the span of a week, so we'll usually go out afterward."
Currently, she is staying busy by completing her clinical placement at St. Michael's Hospital and working reception at Michener part-time. She is also involved in a research project examining patient engagement in medical imaging to inform the development of patient and provider education materials. Marienell plans to present the results of this study at next year's Wavelengths 2020 imaging research symposium.
"Our team is looking at how much a patient's doctor has shared with them about their exam compared to how much they want to understand before their imaging exam," says Marienell. "It's interesting because we have to be very aware of how much they can understand when it comes to medical terminology."
After graduating next June, she hopes to continue her education by either entering a Master's program or medical school.