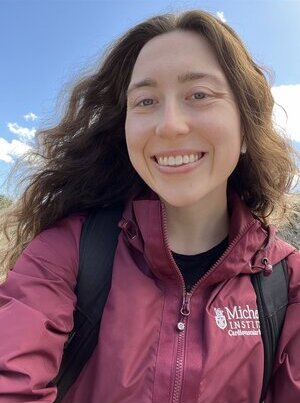 When Sienna Cole first discovered Cardiovascular Perfusion (CVP), she decided to shadow a few Perfusionists in Hamilton to see if she might enjoy a career in the field.
"I was mesmerized by the skills of the Perfusionist and surgical team, and the application of physiology, anatomy and interdisciplinary teamwork involved in open heart surgery and cardiopulmonary bypass," she says.
In the final year of her Honours Bachelor of Science in Biomedical Science at the University of Guelph, she applied to the CVP program at The Michener Institute of Education at UHN and was thrilled to receive an acceptance letter.
Sienna is now the recipient of Michener's 2022 President's Scholarship. Established in 1997, the President's Scholarship is presented to a student in their graduating year who has contributed to student life, demonstrated leadership and set an example as a team player in the lab and classroom.
In her time at Michener, Sienna was a member of Student Council and collaborated with the school's Charity Committee for their Ted Talk event. She also assisted with the Cooking with Council subcommittee, with the goal of creating short videos to provide students with easy, student-friendly meal ideas.
Sienna loves spending time outside and enjoys activities such as hiking and camping. In her free time, she plays intramural basketball and volleyball, in addition to participating in group fitness classes.
"My favourite memory at Michener happened shortly after the second Covid-19 vaccines were rolled out – a calm moment in the storm of the pandemic," says Sienna. "I remember reconnecting with a few students who had returned to campus when restrictions were lifted, and we all got together to play board games on the fifth floor student lounge. It may seem like a small event, but at that moment in time, it felt like a wave of relief among the uncertainty and chaos."
The Covid-19 pandemic presented challenges for Sienna as all of her lectures were held online and students were unable to participate in hospital visits and some other hands-on experiences that are typically part of the CVP curriculum.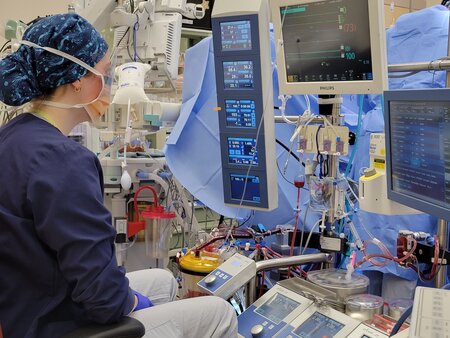 "It was tough as a student who had no previous healthcare experience to enter the cardiac operating room during my first clinical placement, but our instructors prepared us the best they could and adapted the program to ensure we met the learning outcomes," she says.
Sienna has accepted a position at the Halifax Infirmary in Nova Scotia, where she completed her final clinical phase as a student, and will begin working as a Cardiovascular Perfusionist after graduating from Michener this June.
"After graduating, I want to continuing gaining experience in this field and learn more about pediatric perfusion," she says. "I think congenital anatomy is very interesting and working with pediatric patients would allow me to advance my skills and technical knowledge."