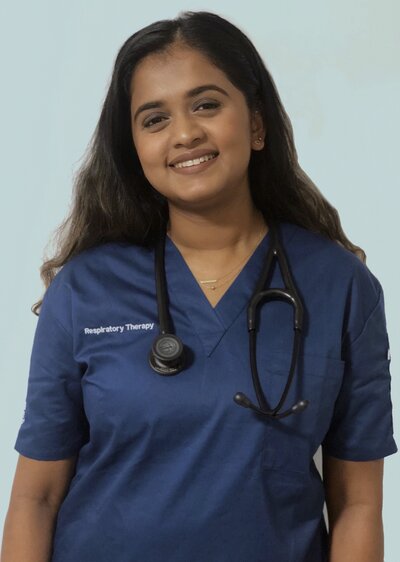 After completing a Bachelor of Medical Science at Western University and working in banking for a few years, Sahana Nirmaiyan decided she wanted to make the jump into health care after learning about the important role Respiratory Therapists (RTs) play during the COVID-19 pandemic.
"I also applied to Respiratory Therapy at Conestoga College but decided to choose Michener because of its stellar reputation and opportunities to work in some of the most respected Greater Toronto Area hospitals," she says.
Now in her third year of the program, Sahana is the recipient of Michener's 2023 President's Scholarship. Established in 1997, the President's Scholarship is presented to a student in their graduating year who has contributed to student life, demonstrated leadership and set an example as a team player in the lab and classroom.
"As I will be graduating this June and entering the workforce, this award, along with the other two that I'm receiving from Michener, recognizes my hard work over the last few years and encourages me to continue striving for excellence as I start my career," she says. "I see it as a milestone in my journey."
One of Sahana's favourite memories from her time at Michener was the summer she spent working for the Respiratory Therapy department during the simulation semester. Since most of the program had been conducted online up until that point, the opportunity to explore campus, practice with the equipment and interact with faculty and students helped her feel more connected to Michener and her Respiratory Therapy school experience. It also allowed her to work with equipment she didn't have much time with previously due to labs being conducted virtually and make connections with her fellow classmates that she hopes to keep for a lifetime.
Sahana describes herself as a big "foodie" who enjoys watching basketball, going on walks and spending time with her family. She is also a self-proclaimed Candy Crush fanatic.
Sahana spent her clinical year at Toronto General Hospital (TGH), as well as in a Clinical Extern role at Etobicoke General Hospital (part of William Osler Health System). After graduating this June, she will be working full-time as a RT at William Osler Health System and in a casual position at TGH.
Her long-term goal is to continue learning while working in the field and building confidence in her skill set. She ultimately strives to be a competent and confident RT.
"I would like to thank the Respiratory Therapy faculty for considering me for this award and for their encouragement over the last three years," Sahana says. "I'd also like to thank my family and fiancé for helping me through this program. This award is a reflection of those who have supported me."