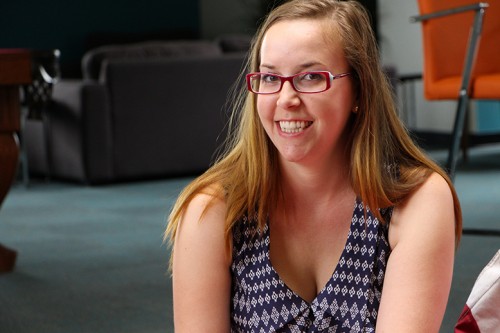 With Convocation just a few days away, we asked medical laboratory science graduand, former Student Council President and 2015 Valedictorian Elizabeth Pickles about her time at Michener, what inspires her and what she is looking forward to most in the future.
As the Class of 2015 gets ready to graduate on June 27, tell us what inspired you by using #MichenerGrad15 on Twitter, Facebook and Instagram.
What inspired you to go into medical laboratory science?
It started during my childhood. My mother went back to school to become a Registered Massage Therapist and this piqued my interest in a career in health care. I chose med lab specifically because I was inspired to help people and take care of them. I was drawn to the lab because I was interested in helping people by examining parts of the human body that can't be seen. Throughout my journey so far, I've been inspired by the mysteries of the human body.
Who or what had the biggest impact on your overall success at Michener?
My peers hugely impacted my success at Michener. They motivated me. With my classmates I always felt that we were all on a team, helping one another to accomplish our shared goal of becoming health care professionals. This support helped me inside and outside of the classroom.
Taking time to have fun with Student Council was a major form of stress relief during my time at Michener. My fellow Student Council reps provided the reprieve from studying that I needed.
Where do you see yourself in five years? Ten years?
After spending so many years working towards my goal of becoming an MLT, I am looking forward to working on the bench. Michener provided me with a fantastic groundwork of knowledge, but there is still so much to learn. My personal goals are centred on being happy and healthy and making positive contributions to my community. I hope that every day I will be able to make a difference in the lives of patients and that my passion for working in the lab will grow stronger with time.
What is the single biggest accomplishment that you're most proud of from your time at Michener?
My single biggest accomplishment is that I was able to make a positive contribution to the Michener community. As I reflect on my three years at Michener, I believe that my legacy is the friendships that were made and strengthened at the events that I helped plan with Student Council, the Med Lab Student Society and during orientation.
What advice would you give to future Michener students?
My advice to a future Michener student is to get out and participate! The Michener Institute has many marvellous ways to get involved and develop your skills. I encourage all new students to soak up the experience at Michener and take every opportunity that you can. Find your cause: whether it's tutoring; organizing a study group; joining Student Council; or forming a new student society. Don't be afraid to take a chance.
Any special messages to the Class of 2015?
We made it! After all that we went through, we are now licensed professionals. Congratulations to you all on accomplishing your goal of starting a career in health care. I wish the best of luck to all of the new grads as they begin their training on the job. I look forward to seeing you all in the future!