Radiographic Marker Ceremony
First year Radiological Technology students received their first set of personalized radiographic markers at Michener's annual Radiographic Marker ceremony last week. The annual ceremony symbolizes for students the transition from the classroom to clinical practice and emphasizes Michener's high standards of standards of practice and patient care.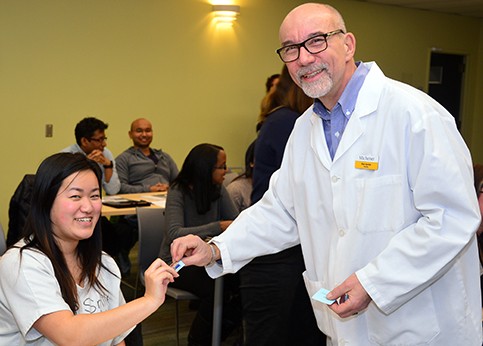 Radiographic markers (or x-ray markers) are a staple of medical radiation technology practice. The markers are placed on x-rays to correctly identify left and right sides of the body. The markers also incorporate the initials of the medical radiation technologist to identify the professional's work.
"The ceremony emphasizes the importance of applying the correct use of markers in learning as well as in practice," says Alex Gontar, Radiological Technology Professor. "It was designed to incorporate a learning experience into an enjoyable event for students."
Alex began the ceremony by describing to students the importance of learning proper standards of practice for patient care. "Accurate labelling of the x-ray follows the steps necessary to complete a procedure correctly," explained Alex. "It prevents duplication, which therefore, provides comfort and avoids extra radiation exposure for the patient."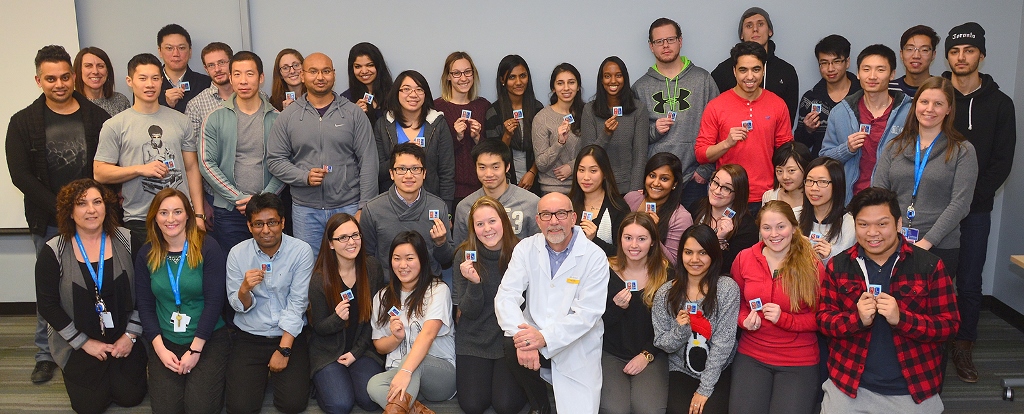 After the opening words, professors from the Radiological Technology program personally handed out the individualized markers to an enthusiastic room of first year students. Sayanutha Niranjan, a first year Radiological Technology student, was delighted to receive her own marker at the ceremony. "Being surrounded by such supportive Michener staff and our fellow classmates, I felt a sense of accomplishment and excitement," she says.
"Receiving the markers initiates the next important phase in their profession," Susan Weltz, Chair of the Radiological Technology program, explained. "For a medical radiological technologist, proper marker use is as important as other ethical matters such as informed consent, respecting dignity of patients, treating patients with equality, taking into account patient needs and confidentiality."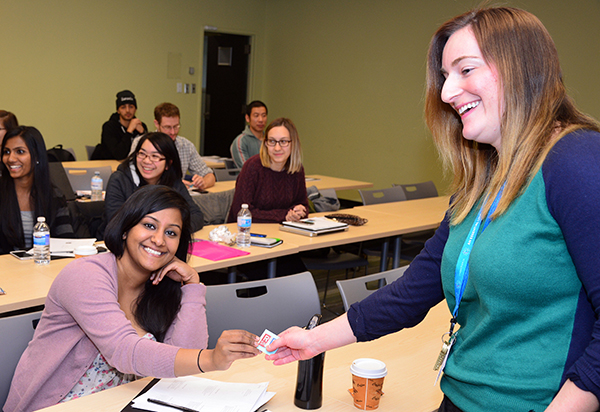 "As healthcare professionals, our first priority is our patients," adds Sayanutha. "The accountability associated with the markers ensures the best patient care and satisfaction."
Radiological Technology Professor, Melissa Rassenti, elaborated on how the Radiographic markers represent designated College of Medical Radiological Technologists of Ontario standards of practice. "In order for students to be ready for their work as MRTs they must first understand competence, accountability and collaboration are embodied in the proper use of the marker," she says. "Proper identification by the Radiographer allows for other members across the healthcare team to work together towards the best patient outcomes."
Find out more about the Radiological Technology Program