Future Skills Centre supports Michener in advancing healthcare education research
Since 2020, Michener and UHN educators and researchers have secured several grants from the federal government's Future Skills Centre that advance research into teaching and learning in the health professions. The following projects are currently underway with our education partners across the UHN community.
Embedding artificial intelligence into healthcare practice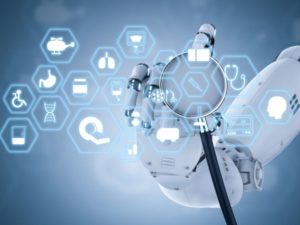 The Michener Institute of Education at UHN and Vector Institute are setting out to transform the skills and capabilities of front-line healthcare professionals in the application of artificial intelligence (AI) to health services. Thanks to a two-year, $1.52 million grant from Future Skills Canada, the organizations will partner with other healthcare and academic groups to empower a workforce with the knowledge, skills and capabilities to embed AI in patient care with compassion.
The project, called Accelerating the Adoption of Artificial Intelligence in Healthcare, is a unique opportunity that brings together some of the world's top AI minds in Canada to teach healthcare professionals. This unique partnership combines comprehensive AI and education design expertise with access to real-time clinical practice and patient feedback. The goal is to develop and evaluate new approaches to better equip healthcare organizations and professions with the skills required to accelerate the adoption of new technologies.
Creating education and advocacy resources for PSWs
The Institute for Education Research (TIER) at UHN is creating education resources to support Personal Support Workers (PSWs) in providing safe, effective care, as well as advocacy tools to help health system leaders and other health professionals understand how important PSWs are to patient care.
In partnership with local organizations, the Michener School of Continuing Education and the University of Toronto's Centre for Interprofessional Education, TIER is designing an online, evidence-informed education module. The curriculum immerses PSWs and other care professionals in realistic simulations — featuring real frontline PSWs based on encounters when providing care and support to older adults. Future Skills Centre is investing just over $183,000 in this one-year project to expand the existing CACE Homecare curriculum, adding modules on infection prevention and control, the basics of COVID-19 for PSWs, and wellness and resilience.
Evaluating an upskilling program for jobs in digital health and data analytics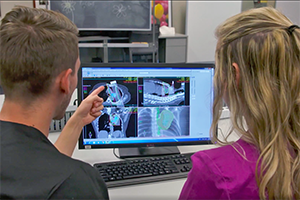 The Future Skills Centre is supporting Michener in conducting a comprehensive research program to help design and evaluate our newest program: Digital Health and Data Analytics. The program started in September 2021 and is targeted to two specific audiences: those in the healthcare sector who need to learn more about how to use digital technologies and data sets to inform healthcare decisions and improve care and clinical practice and who seek employment in these areas; and those in the IT world, who wish to transition to careers in healthcare settings or consult on, design or implement digital solutions to advance and improve healthcare.
The program was designed to give graduates complementary and requisite knowledge, skills and capabilities that will prepare them for careers beyond healthcare, to any environment or profession where the evaluation and creative use and interpretation of data, evidence and digital technologies is instrumental to solving problems and making advances.
Best foot forward: reskilling human resources for high-risk foot care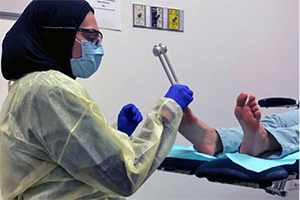 Diabetic foot complications are a complex health issue that requires specialized healthcare skills. Patients with diabetic foot ulcers are at risk of amputation if treatment is not timely and appropriate. However, a shortage of chiropodists and podiatrists to treat these ailments necessitates the involvement of other health professionals including doctors, nurses, wound specialists, personal support workers, physiotherapists and others.
Retraining and upskilling these providers can help meet the growing demand for evidence-based diabetic foot care, reduce the number of lower limb amputations, and address a growing need in the workforce.
The Future Skills Centre is investing in a four-year project  by UHN and the Michener Institute of Education at UHN. Organizers will examine the human resources and healthcare capacity needed to prevent or reduce lower limb amputation rates among people with diabetes. It is part of a broader collaborative effort – including the Conference Board of Canada's VBHC Canada, in partnership with Diabetes Action Canada and CorHealth – to improve the management, treatment and outcomes of persons with diabetes as well as to enhance the efficiency of the healthcare system.