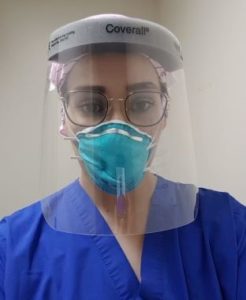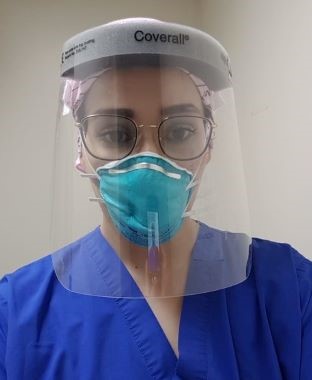 In a normal year, students graduating from Michener's Respiratory Therapy program would be finishing off their 30-week clinical placement and preparing for the program composite exam.
But 2020 has been anything but normal.
In late March, five weeks before the end of their clinical placement, Respiratory Therapy students in their last year of the program received an email from Michener: they were being accelerated to complete the program early, and would need to apply to the College of Respiratory Therapists of Ontario (CRTO) so they could enter the workforce immediately to care for patients with COVID-19.
Jaspreet Singh is one of the Respiratory Therapy students who was contacted. "It was exciting, but also surreal," says Jaspreet. "We went from ending clinical early to becoming a frontline worker within days. As a new grad, you're usually thinking about getting a job and passing the licencing exam, but instead we're thinking about precautions in a pandemic."
A day after learning that she had graduated early, Jaspreet got a call from the Respiratory Therapy clinical coordinator at Toronto Western Hospital asking when she could start in the Intensive Care Unit. Hospitals needed Respiratory Therapists as quickly as possible to stay ahead of the COVID-19 surge, and new grads were already familiar with hospital policies and had completed most of their clinical rotations. Their skills and knowledge were as current as possible.
Michener's role was to ensure that all of the new Respiratory Therapy grads had the appropriate Ontario entry-to-practice competencies by looking at their clinical experience and their skill level in the simulation components of the program.
And once the grads entered the ICU, they had tremendous support from the practicing Respiratory Therapists already working in the units.
Lori Peppler-Beechey is the Academic Chair of Michener's Respiratory Therapy department and played a big role in coordinating the early graduation and bringing Michener students up to speed on the unique situation.
"This was really a collaborative effort," says Lori. "The CRTO reached out to all educational institutions with Respiratory Therapy programs in the province and clearly outlined their support for early graduation. Our students spent the past 25 weeks completing their clinical learning, and along with their experience in clinical simulation throughout the program, we were confident that their knowledge and competencies met the entry-to-practice standards for the profession."
Once Jaspreet started in the ICU, she worked alongside an experienced Respiratory Therapist who showed her proper donning and doffing of personal protective equipment and other ways to protect herself and other patients. By the second day, Jaspreet was placed independently, taking care of up to eight patients on her own.
"I finished my last block of the ICU in my clinical placement, so I was comfortable," Jaspreet recalls, "but I'm starting my career completely immersed in this new learning experience."
Jaspreet understands the contribution that she and her classmates are making to fighting this pandemic, and she's humbled by the gratitude. "When people are out there cheering for frontline workers, I'm right there with them. But then I realize 'wait, this cheering is also for me.' It's all been life changing."