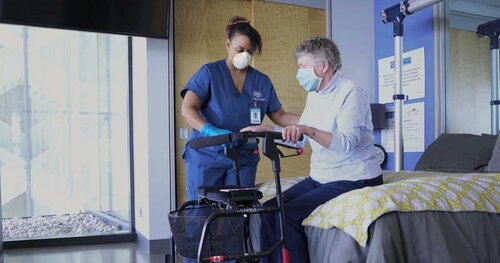 As part of a partnership between the University of Toronto's Centre for Advancing Collaborative Healthcare and Education (CACHE), The Institute for Education Research (TIER) and Centennial College, interprofessional groups of students from health science programs at the University of Toronto (U of T) and the Centennial College Personal Support Worker (PSW) program have collaborated to create PSW-partnered advocacy and interprofessional education projects.
"The pandemic highlighted and helped to identify both existing and new gaps in health care," says third-year Medical Radiation Sciences student Baha Hamzaev, who worked with teammate Amanda Hage-Hassan. "Among such gaps are the delivery of robust health care in home and long-term care settings."
"In consultation with participating PSW students and community partners, our project focused on tackling the issue at hand by proposing targeted health policy solutions that emphasize the need for better understanding and appreciation of the important role PSWs and Resident Support Aides (RSAs) play in the delivery of high-quality patient-centered care," says Amanda Hage-Hassan.
As one of the short-term deliverables of the project, Baha and Amanda have been developing an elective interprofessional event to be offered for the first time through CACHE during the fall semester.
The group was fortunate to receive ample support and mentorship from CACHE and other organizations such as the Future Skills Centre, CACHE, TIER, Centennial College, Rekai Centres, Houses of Providence, VHA Home Healthcare and Jodal Healthcare.
"As the next generation of health care providers, I think we have a responsibility to learn from this pandemic and do a better job of advocating for and supporting one another to have a more robust and resilient health care system functioning at its best," says Baha.
All of the student projects will culminate in a PSW awareness month in May 2023.
These projects, as well as related resources, would not have been possible without a grant from the Future Skills Centre.