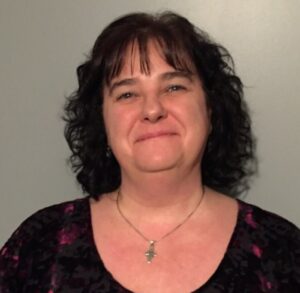 Erin Currie has been working as a nurse in various capacities for almost 35 years. She began her journey in health care shortly after graduating from George Brown College's nursing program in 1987, and would go on to work in intensive care and cardiac care units in Toronto. In 1997, Erin and her family made the move to Northwest Territories, where she would later start working as a pediatric nurse in a tertiary hospital. "From there, I went into the float pool and worked in every unit in the hospital – you name it, I did it!"
Erin eventually found herself back in the intensive care unit (ICU), and was there for a year before applying to a nurse practitioner program in 2005, which she completed through Aurora College in Yellowknife – where she also now teaches diabetes. "After graduating in 2007, my first job was as a primary health care nurse practitioner, but working in the specialty of internal medicine. And the first thing I started doing was diabetes care and management." After 6 years, she became a Senior Nurse Practitioner Consultant with the Department of Health and Social Service, and by 2019 she was asked to take over a position in diabetes primary care following the retirement of a colleague. It was at this point that Erin started looking for a diabetes program that would provide her with the most up-to-date education.
"I knew about The Michener Institute through family and friends, but it was a dietitian co-worker that first told me about Continuing Education in diabetes. When I went onto the (Michener) website, it was as if a whole world opened up to me."
Erin enrolled in and completed the Diabetes Educator Certificate Program in 2021, and would also go on to complete the Diabetes in Older Adults Management course. She notes that both programs have helped her to solidify her knowledge-base. "It filled in a lot of gaps and helped me understand things more clearly – medications, pathways, processes – and gave me more insights and knowledge to be able to share with my clients and even my own students at Aurora College."
One of the key take-aways for Erin has been the importance placed on language. "I really embraced the idea that the term 'diabetic' is defining a person by their condition instead of realizing that they are far more than their condition, and I am now working hard to try to abolish that thinking in Yellowknife as well."
Post-Michener, Erin went on to write and successfully pass the exam to become a certified Diabetes Educator in May 2021. "I am proud of that achievement. The certificate course at Michener helped me greatly by filling in the gaps and ultimately gave me the confidence to write the exam and become successfully certified."
For those thinking about taking any of the diabetes courses at Michener, Erin says there's no better place to further your education. "The courses at Michener really focus your attention and you can't help but learn a lot. And for someone who is new to diabetes, Michener provides a great educational opportunity! Once you've done the Diabetes Educator Certificate Program, you have the option of taking more specialized courses, so it also targets people who want to become diabetes educators."
Armed with solid education and experience, Erin is now helping other students as a facilitator in same Diabetes Educator Certificate Program at Michener from which she graduated.  "My background was in critical care, but here I am now. I tell people that diabetes is my life – I want to learn and do everything I possibly I can in this realm, including teaching others. I have a passion for diabetes education in particular, so I am very proud to be a facilitator for this program.
"I love all of it – and look forward to the interactions with students and facilitating new and important discussions in diabetes care."