Often the best way to show appreciation is through two words: thank you. Through Michener's Values in Action Awards, that sentiment has been extended to three Michener alumni turned clinical coordinators who have dedicated their time and resources to advancing the education of future applied health professionals.
The Michener Values in Action Awards celebrate passion, commitment and displays of Michener's values:
We lead by example
We celebrate relationships
We create opportunities
We embody excellence
We transform lives
Dawna Thomas, Ultrasound Supervisor and Clinical Coordinator at Baycrest, Michener Ultrasound Alumni
As part of Michener's Ultrasound Patient Care course in Summer 2014, students were given the opportunity to spend a half-day in the Ultrasound department at Baycrest Hospital. Working with Dawna and observing her ultrasound skills and compassionate care, the focus of the clinical site visit was to observe the communication and patient care needed when working with elderly patients.
"I think it's important that we actually treat patients and take care of patients according to our values," says Dawna. "That is something that I would like my students to understand: your values determine how you're going to be as a clinician when you go out there and start your practice."
The Values in Action Award was awarded to Dawna for the impact that the clinical site visit had on Michener students. "I have no doubt that all of us left Baycrest with a changed outlook and with a new understanding of patient care and respect needed to support older patients as they age," one Ultrasound student reflected after the visit.
"It's wonderful to be recognized for something that I do with a passion," says Dawna. "I love teaching and I love sharing my knowledge. To be recognized for our contribution to the student experience, it's a good feeling."
During the site visit, Dawna imparted valuable wisdom upon the students: "You need to treat every patient differently. You should take the time to know your patients and learn about their cultures and customs," she said. "If you can demonstrate that, you can build a positive relationship."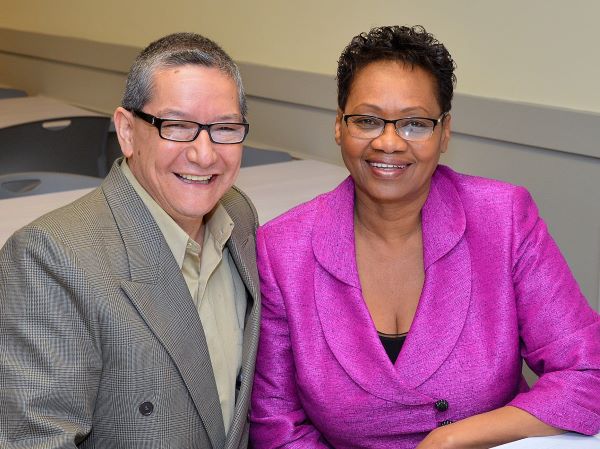 Jose Jarrin, Hospital For Sick Children (Sick Kids) Clinical Coordinator, Michener Ultrasound Alumni
Bridging generations, Michener's Ultrasound Patient Care course focuses on patient interaction. In Summer 2014, a visit to Sick Kids Hospital proved to be a unique and highly valuable experience, thanks to the efforts of Ultrasound Clinical Coordinator Jose Jarrin.
During the half-day clinical visit, students gained experience not only performing ultrasound scans on children, but also developing patient care skills with the patient and patient's family. Jose partnered students with hospital sonographers in specialty areas such as the Intensive Care Unit and the Neonatal Intensive Care Unit so that students were able to observe the challenges and fulfillments of working in a paediatric hospital.
"It can be challenging," one student observed after the clinical visit. "Being a sonographer requires a great set of interpersonal skills and extreme patience. One has to be able to adapt quickly to any situation."
"Thanks to Jose's help, we were able to give students exposure to new and exciting learning opportunities," says Cathy Babiak, Ultrasound Professor and Clinical Liaison Offer.
"Working with the students makes me proud," says Jose. "Working in Ultrasound, I've had the opportunity to help and to teach. Being recognized is like a renewed energy."
Chris Hau, Clinical Coordinator at University Health Network, Michener Respiratory Therapy Alumni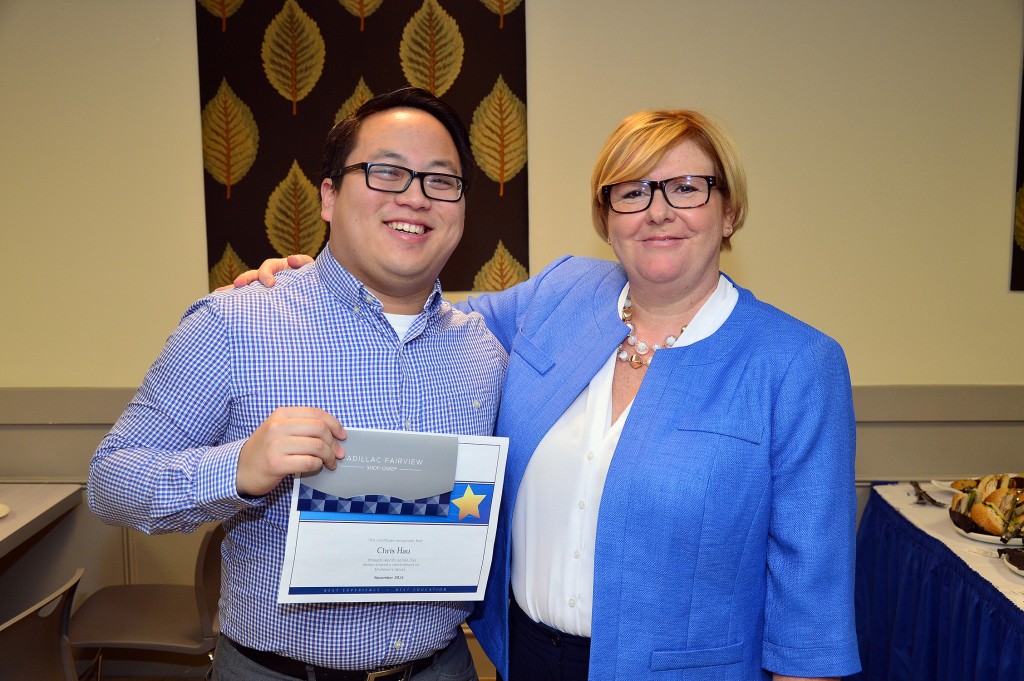 One of the most important steps in the education of any Michener student is the admissions process. Every year, Michener determines its next intake through a series of Multiple Mini Interviews (MMIs). To ensure the interview process runs smoothly, Michener depends upon dozens of volunteers. One of these volunteers is Chris Hau. For the last three years, Chris has taken time off from his work at UHN to volunteer for a week as Michener's MMI Logistical Coordinator.
"As an alumni, this is a way to give back to the school and be part of something," says Chris. "This was a great and unexpected award. I really appreciate it."
In addition to volunteering with MMIs, Chris is also a part-time professor in the Respiratory Therapy department. An active member of the Michener community, Chris's passion and dedication is apparent.
"Chris's constant professionalism and dedication to Michener reach far beyond expectations," says Karyn Roscoe, Manager of Student Enrolment. "His passion for Michener is evident in all that he gives back to our community. His example empowers students to become effective leaders and active community members."
Read more News Stories