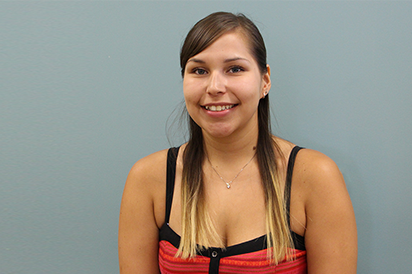 Janine Ray has often thought about her heritage. She has Native ancestry on both sides of the family, and though she was not heavily involved in Indigenous culture during her formative years, she felt the desire to become more connected as she grew up. For Janine, the opportunity to learn about her culture and the history of Indigenous people came through getting involved in the Truth and Reconciliation task force at The Michener Institute.
"I was not overly educated on the current issues of Indigenous people," she admits. "Nor did I know much about the Truth and Reconciliation Commission and Calls to Action."
A second-year Medical Laboratory student at The Michener Institute of Education at UHN, Janine was the student representative on Michener's Truth and Reconciliation (TRC) Task Force, created to respond to the 94 Calls to Action.
Janine grew up in a town called Marathon, located along Lake Superior's north shore between Sault Ste. Marie and Thunder Bay. Historically, Ojibway Natives inhabited Marathon as far back as 500 B.C., and many Marathon residents have Indigenous ancestry to this day.
"My grandmother and other family members were sent to residential schools," she explains. "When I saw that Michener was organizing a task force, I immediately saw it as a chance to get involved and be part of something that is very much part of who I am."
Truth and Reconciliation
For 120 years, Canada was complicit in the abuse of thousands of aboriginal children across the country through the creation and ongoing support of Aboriginal residential schools. On the surface, these schools were said to help Aboriginal children assimilate into modern society. In reality, they were environments where children were abused, removed from their families and stripped of their culture.
Conditions in these schools were consistently horrific: overcrowding; poor sanitation; inadequate heating; and high rates of contagious diseases with no medical care were common. According to Justice Murray Sinclair, the chair of Canada's Truth and Reconciliation Commission, at least 6,000 of these students died attending residential schools. The last of them closed in 1996.
As a response to these injustices, the Canadian government established the Truth and Reconciliation Commission of Canada in 2008 with the help of approximately 86,000 Native Peoples who survived their stay or had family members in a residential school. In December 2015, the Commission issued a document identifying 94 "Calls to Action" to "redress the legacy of residential schools and advance the process of Canadian reconciliation."
The Calls to Action are broken up into two parts: legacy and reconciliation. Each part has several sub-headings to further identify specific actions required.
Since The Michener Institute falls under two sub-headings – health care and education – many of the calls to action were directly relevant to Michener's policies and procedures.
Building a culture of safety
In March 2016, Michener's TRC task force was created, supported by Executive Vice President of Education Dr. Brian Hodges and led by former Director of Continuing Education, Gillian Nichol. The goal of the task force was to make recommendations by June 2016 for a Michener response to address the TRC Calls to Action.
Janine served with 11 others on the Task Force. Members of the task force were diverse and included Indigenous clinical educators, those with specific connections to Indigenous communities or working with Aboriginal Health Access Centres and Michener staff with backgrounds and specific interests in issues related to Indigenous communities.
At present, six self-identified Indigenous students are enrolled in Michener programs. Though a small number compared to neighbouring colleges and universities, Michener is committed to creating a sense of community, one in which Indigenous students feel safe, comfortable and poised for success.
Based on ongoing research and community engagement, Michener's TRC task force arrived at recommendations in five key areas aiming to improve the lives of indigenous Canadians in the areas of both health and education:
Building a culture of safety at Michener where indigenous students are welcomed and supported in their paths into health care;
Increasing the number of indigenous health professionals through focused recruitment and retention plans;
Teaching all future health professionals about Canada's indigenous peoples and healing practices;
Engaging members of indigenous communities (including elders and healers) in efforts throughout; and
Contributing to growing research on Indigenous health education.
These recommendations will involve organizational change at large, across Michener and ultimately throughout UHN, to improve health and education outcomes among Indigenous people. As for Janine, she felt grateful to be a part of the beginnings of this important work.
"I was pleasantly surprised at Michener's recognition of the need for action," Janine says. "I think with ongoing efforts, Michener will eventually feel even more comfortable and safe to its students."