This is an exciting time for Michener. On December 14, 2015, The Michener Institute for Applied Health Sciences signed an agreement to integrate with University Health Network (UHN). This Canadian-first, "Made in Ontario" Mayo-like model brings together a diploma-granting health care education institution with an academic health sciences network within a single organization.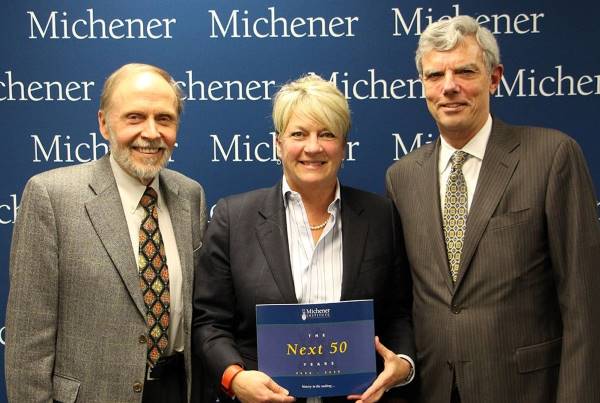 Already, Michener plays a significant role in anticipating and meeting health labour force needs, but this integration strengthens that role by more deeply embedding teaching in daily clinical practice and research at the country's biggest teaching hospital and health facility. Integrating a school in a hospital network will benefit patients because we can apply our rapid-response curriculum design expertise to train health technologists as quickly as technology, research and clinical practices evolve. These solutions can be diffused across the province expeditiously.
Integration presents an opportunity to develop a model of health care education that will:
strengthen the role of education as a fundamental part of Ontario's health system, ensuring quality care and patient safety;
create the capacity to rapidly adapt health professional training to meet pressing challenges and to seize new opportunities for innovative health care education solutions;
leverage expertise, capacity, scope and scale across the health care continuum by integrating both organizations, which already have established a strong and rich history of partnership and collaboration and which share similar commitments to quality education; and
integrate education, research and clinical practice; and
be the 'go-to' applied health solution provider for Ontario.
Integration also creates the capacity to put students in the clinical setting much earlier, with more clinical placement opportunities across the system and better access to state-of-the-art technologies and some of the brightest minds in applied health sciences professions. Michener-trained professionals – already highly regarded – will see their value to the system rise with the additional value of partnership with an academic hospital network as highly regarded and comprehensive as UHN.
Michener is now positioned to play a lead role in the planning for applied health professionals and teams in Ontario. This adds direct and long-term value to the health system, to students, to patients and to the Ministry of Health and Long-Term Care.
As we move forward together with UHN, Michener is poised to have a lasting influence on our health care system. Our students, and the commitment to exceptional student experiences, remain at the heart of this vision.