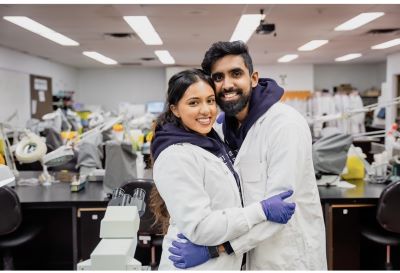 Michener's class of 2020 went without many of the joys most grads used to take for granted: celebrating milestones with friends, social events on campus and even an in-person convocation.
Now that these grads are two years into their careers, and their life routines are slowly getting back to normal, there is finally a chance to return to Michener for the first time since the pandemic started. And some grads are taking this opportunity to celebrate the spaces on campus that meant so much to them.
Tharchika Sathiaseelan, a Medical Laboratory Technology grad, and Srijaayath (Jaygo) Srichandramohan, a Diagnostic Cytology grad, met and started dating during their time at Michener. They're now planning their wedding for this May.
Thrachika and Jaygo wanted to somehow include Michener in their wedding celebration, and with the support of Michener Facilities staff who helped them coordinate timing and book the space, the couple brought in a videographer to shoot a wedding video on Michener campus and in the lab where they first met.
"Michener changed both of our lives," Tharchika says. "The community is like another family to us, and we wanted to show our story from the beginning."
Grads like Tharchika and Jaygo didn't get the closure that usually comes after graduation because they never returned to Michener's campus after the first COVID-19 lockdown in March 2020.
"We didn't have an in-person convocation and this video shoot is our first time back on campus in two years. I feel like this will be our opportunity to look back on our memories because we never had the chance for that. We really needed this moment," Tharchika says.
Tharchika and Jaygo both currently work at Mount Sinai Hospital, and they know how difficult the pandemic has been for health care professionals on the frontlines. Bright moments like returning to Michener and shooting their wedding video on campus is the kind of good-news story that their peers and fellow grads need right now.
"Health care workers are drained," Tharchika says. "Showing our peers what our time at Michener meant to us, and showing where we ended up, could make all of our bonds a little stronger. It's a positive reminder of what our programs, classrooms and instructors were like. And it feels good to look back on this time."
Tharchika hopes that her and Jaygo's story will be meaningful for current Michener students as well. COVID has changed how students experience Michener and campus life in general, but Tharchika thinks there are still opportunities to make memories. "You're making more than professional connections at Michener," she says. "Look at us – anything can happen!"