As Ontario prepared to enter the third wave of the Covid-19 pandemic earlier this year, hospitals struggled to keep up with the immense demand for patient care while also managing staff shortages.
To assist with this immediate need for support, the Ministry of Health invited University Health Network (UHN) to participate in a new program hiring senior students enrolled in academic healthcare programs as Clinical Externs. As unregulated staff, Clinical Extern roles included supporting clinical teams at the point of care including family communication and in respiratory therapy departments.
A total of 138 Clinical Externs were hired between May and August 2021, accounting for 57 per cent of the new clinical staff hired at UHN at the time. Of these hires, 126 were Nursing students, one was a Paramedic student, one was a Medical student and 10 were Respiratory Therapy students, including eight Respiratory Therapy students from the Michener Institute of Education at UHN.
"Supporting clinical teams was a key goal of this program and we learned that the Clinical Externs did just that across UHN. Clinical Externs have been described as having a positive effect on staff well-being, patient safety and the quality of patient care," says Mandy Lowe, Senior Director of Clinical Education at UHN. "In addition to providing these students with clinical experience, teams said Clinical Externs helped to improve the well-being of patients by providing additional social support, communication with family members, physical support with the patient's daily activities, as well as emotional support."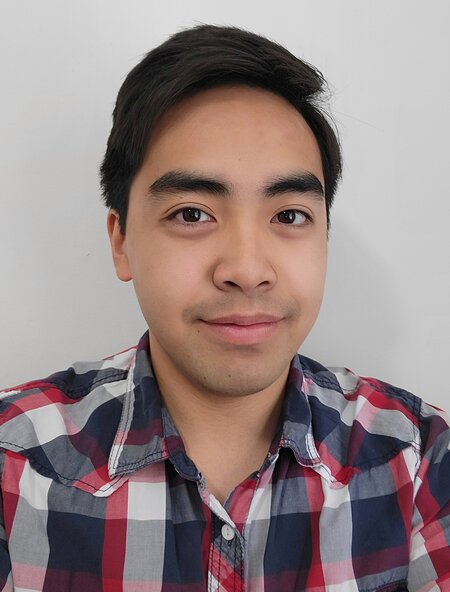 Ryan Floro is a third-year Respiratory Therapy student at the Michener Institute of Education at UHN who was hired as a Clinical Extern at Toronto General Hospital in June.
Some of his daily responsibilities included ensuring ventilator flow sheets were up-to-date, filling in extra flow sheets and preparing transport ventilators and bronchoscopy equipment for procedures that may need to be performed that day. He also spent time assisting Respiratory Technicians, stocking departments with equipment that the Respiratory Therapists (RTs) would need and being on standby to assist with procedures.
This was Ryan's first hands-on clinical experience due to the pandemic and he says it was a fantastic introduction to his profession.
"The RTs often commented that we saved them a lot of time by helping out," he says. "We weren't there as students and they didn't have to make time to answer our questions, but they always did and were open to letting us watch or participate in a procedure."
Ryan has now started his clinical year at St. Michael's Hospital and says he feels more confident and has a better idea of the general flow of a hospital heading into this role after his experience as a Clinical Extern.
Emilie Petipas is a fourth-year Nursing student at York University who applied to the position after hearing about it from her school supervisor. She began working in mid-June at Toronto Rehab Institute's Bickle Centre.
On a complex continuing care unit at Bickle Centre, Emilie helped patients with their day-to-day activities including hygiene, eating, talking with families and talking with patients. She would also find as many opportunities as possible to assist nurses or watch them practice their skills.
"I already had some clinical experience from my school placements, but I would say that this was different from working as a nursing student because you feel like you're part of the interprofessional team," she says.
Emilie feels that this experience helped her to build her time management and communication skills, which she says are critical skills required to be a nurse.
"This project would not have been possible without rapid collaboration between many teams including UHN's Clinical Education, People and Culture, Health Services, Safety Services, Collaborative Academic Practice, Digital, Finance, clinical managers, clinical directors, academic institutions and more," says Tracy Paulenko, Interprofessional Education-Care and Educational Development Leader at UHN.
This work also built on several resources that were already in place at UHN, such as the COVID-19 learning resources covidcarelearning.ca and the Science of COVID-19 portal, in addition to resources and processes that were already being used to support learners at UHN.
"Thanks to this collaborative effort, we were able to bring this together in an unbelievably short period of time," says Tracy.
Fortunately, this program will be continuing through to the end of the year.