The parking garage at your place of work has assigned parking spots. On leaving your spot, you are observed by the garage attendant as you back into a neighbouring car, a BMW, knocking out its left front headlight and denting the left front fender. The garage attendant gives you the name and office number of the owner of the neighbouring car, telling you that he is calling ahead to the car owner, Tim. The garage attendant tells you that Tim is expecting your visit. Enter Tim's office.
How would you react in this scenario? Would you defend yourself? Try to explain the situation? Come to a resolution?
This is one example of a scenario that will help determine the next cohort of full-time students entering The Michener Institute of Education at UHN.
It's part of the Multiple Mini Interview (MMI) process that Michener uses to assess the non-academic qualities of prospective students, such as responsibility, ethics, teamwork, communication and self-reflection.
Originally developed by McMaster University's medical school in the early 2000s, MMIs use a unique series of short-form interview stations to assess candidates' "soft" skills, including ethical and moral judgement, interpersonal skills and professionalism.
Since its introduction, the MMI format has been adopted by Michener and medical schools around the world to help ensure they're accepting students who are a good fit for medical professions.
An MMI circuit is typically divided into eight mini-interview stations that each takes no more than seven to 10 minutes to complete. Applicants rotate from station to station, where they are required to discuss a non-clinical question or participate in a simulated scenario.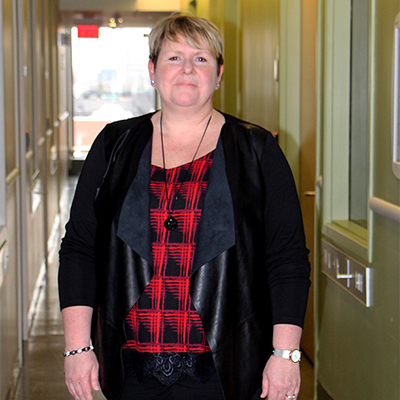 Volunteers needed
An examiner, or Rater, facilitates the question or scenario and fills out a rubric-based evaluation before the applicant moves onto the next station. The examiners, however, are not always medical or health professionals, nor are they MMI or admissions experts.
In fact at Michener, the MMI process relies on upwards of 400 volunteers to facilitate the questions and scenarios, as well as to coordinate applicants and manage the interview circuits. Volunteers range from current students to Michener faculty, staff, alumni and clinical partners and educators.
"We rely on our community to make this event a success," says Karyn Roscoe, Manager of Student Enrolment at Michener.
In addition to leading the student recruitment and admissions process throughout the year, Karyn is also responsible for the planning and execution of the full-week MMI event that occurs each year in early spring. This includes recruiting a full roster of volunteers who are willing to lend a hand for a morning or afternoon at a time.
"Anyone can participate," Karyn says. "Many of our volunteers are just people who are interested and invested in the future of healthcare."
Chance to shape who comes to Michener
When Chris Hau first volunteered for MMI Week nearly seven years ago, he saw it as a chance to give back to his alma mater. A Respiratory Therapy grad now working as a Project Manager at St. Michael's Hospital, Chris most recently volunteered as Logistics Coordinator for the MMIs in 2016, when he managed volunteers running the interview circuits.
He comes back to volunteer each year, he says, because "it gives you a chance to shape who comes to Michener and who the future healthcare leaders will be."
This year, Michener is also seeking volunteers from across UHN, including anyone interested in playing a role in selecting future healthcare professionals.
"We've all been touched by healthcare," explains Karyn. "It's important that we pick the right people to become Michener students, because one day they're going to be looking after us."
Volunteers can sign up online to participate in MMI Week.
Positions available include Circuit Managers (those who are responsible for the smooth set-up and running of each MMI circuit) and Raters (the evaluators who conduct and grade the interviews themselves). For any first-time volunteers, training will be provided.
This year's MMI event runs from May 1 to 5 at Michener's St.Patrick Campus.