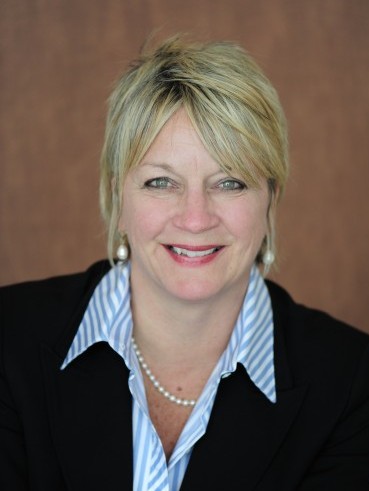 From her days as an Assistant Deputy Minister with the Ontario Ministry of Health and Long Term Care, to her experience at a major women's health centre, to her time leading Canada's largest charitable organization advocating for patients with cystic fibrosis, Maureen Adamson has spent the majority of her impressive career in healthcare.
Now, as the new President and CEO of The Michener Institute, she is leveraging this diverse experience as she embraces a new challenge to help strengthen Michener's value as a leading education solution provider for Ontario's healthcare system.
"Michener has held an important role in healthcare in Ontario and I think we can begin to up the ante – we can strengthen the value we provide to our health system and, ultimately, to the patients we are all here to serve," says Maureen. "As the go-to educational solution provider for government and our health partners, we truly are unique. People here are really committed to our mandate, and with commitment I see tremendous opportunity. I'm looking forward to helping Michener take the next step."
Maureen comes to Michener from Cystic Fibrosis Canada, where, as President and CEO for almost four years, she played a key role in improving patient access to healthcare and therapies such as Kalydeco. She helped build public awareness and raise money for the most relevant research available in Canada and internationally as well as for the 42 clinics across Canada. Cystic Fibrosis is the most common fatal genetic disease affecting Canadian children and young adults.
A seasoned executive with the Ontario Public Service, Maureen has held the positions of Chief Administrative Officer, Assistant Deputy Minister for Health System Investment and Funding, and Assistant Deputy Minister for Corporate Services and Organizational Development at the Ontario Ministry of Health and Long-Term Care. As an Assistant Deputy Minister of Health, Maureen was the CFO for a government department with an annual operating and capital budget of $37 billion and led the multi-billion dollar infrastructure planning process for Ontario's public health care system.
During her tenure as an Assistant Deputy Minister she led the development of the first P3 hospitals in Ontario, established the funding formula that is now in employed by the province and the LHINs and renewed the capital planning policy for hospitals in Ontario.
Maureen also has senior executive experience within Ontario's post-secondary sector and at one of the country's leading teaching hospitals specializing in women's health. She is Chair of the Board of Directors at Research Canada, a national not-for-profit organization whose mission is to improve the health and prosperity of Canadians by championing Canada's global leadership in health research. She is also Vice-Chair of the Toronto Transit Commission (TTC), the third largest transit system in North America, is a past board member of a large credit union and sat on the board of Casey House, a downtown Toronto palliative and supportive care facility for those with HIV/AIDS.
Maureen holds a Masters in Business Administration from the Rotman School of Management, University of Toronto, a Bachelor of Business Administration from Lakehead University and a three-year Community College Diploma in Business.