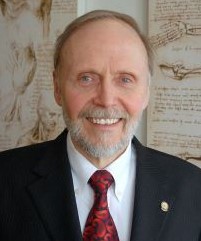 In July 1969, two weeks after starting his career in health care, Cliff Nordal was looking for a place to watch the first moon landing. His rental room didn't have a television, so he ended up joining the crowd watching through a display window at the downtown Toronto Eaton's store.
Today, as he wraps up a 50-year career in health care, the outgoing Chair of The Michener Institute of Education at UHN Board of Governors and UHN Education Committee reflects on the parallels between his lifelong fascination with space travel and a career dedicated to health care and education.
"If you look back on what they accomplished in 1969, it took years of enormous teamwork to land a person on the moon," Cliff recalls. He has also visited the Kennedy Space Centre, and the Houston Space Centre, where much of NASA's simulation program is carried out. He notes that these two factors – collaboration and hands-on learning – are part of what has contributed to Michener's success and strong reputation from the very beginning.
"When I hear valedictorians speak and read the stories of our alumni and students, about how they got here, it all ties back to Diana's original philosophy and values about how to educate health professionals. She had a really good idea, and there's no expiry date on good ideas."
Cliff joined the Michener Board in 2011, one week after he retired as the joint CEO of London Health Sciences Centre and St Joseph's Health Care, London. However, his connection to Michener goes back to 1976 when he started working at Queen Elizabeth Hospital – which would become the Toronto Rehabilitation Institute (TRI), and where he served as CEO for 15 years.
"Michener was a block away, and we had Michener graduates working at the hospital. I also came to know Roland Michener in his role as a strong TRI supporter." he says. Cliff would later be invited as a guest speaker at Michener Board Retreat, representing health care employers in a discussion about the future of the health professions.
Importantly, Cliff was Chair of the Michener Board of Governors in 2014 when former CEO Maureen Adamson engaged UHN in what started as a discussion about some empty space at the St. Patrick Campus – space that is currently being transformed into a surgical simulation innovation centre. That conversation broadened to consider how UHN and Michener could collaborate more deeply, and ultimately into a framework for integration. Leading Michener through that integration is what he's most proud of in his eight and a half years of volunteer Board service.
"I want to acknowledge the current and former leaders who got us to this point, as well as the outstanding faculty support. They're the ones realizing the benefits for their students, and strengthening our clinical placement programs at UHN and elsewhere," says Cliff.
While fiscal restraints in both health care and education – as well as an aging population and increasingly more complex patient needs – will always challenge health care leaders, Cliff feels confident that as professions change and technology changes how they're practiced, Michener will continue to innovate to create tomorrow's health care leaders.
As for Cliff's future, he continues to serve on the Advisory Board of The Wilson Centre, but looks forward to having more time for his many hobbies – such as astronomy, photography and travel, which often go together.
Following his final Board of Governors meeting on June 24, Cliff was honored and thanked for his substantial contribution to The Michener Institute of Education at UHN, and for an incredible 50 years of leadership in Ontario's health care system.