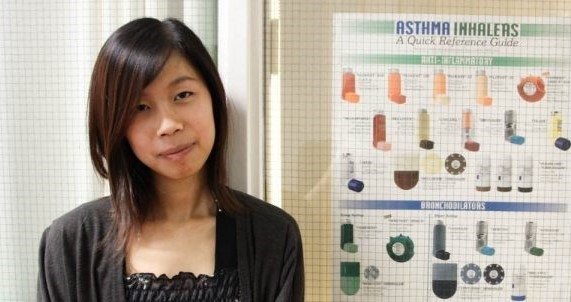 From logging sleep and exercise, to tracking heart rate and blood pressure, mobile apps have become fixtures for people looking to monitor their health. There is no shortage of smart phone applications to offer the latest tools and techniques that claim to help keep us healthy.
Now, one student at the Michener Institute of Education at UHN is advocating for standardized, peer-reviewed apps to help those living with asthma safely manage their health.
Third-year Respiratory Therapy student Shirley Quach's research on the subject recently earned her the Dr. Renate Krakauer Research Scholarship, and an opportunity to present next year at the Canadian Society of Respiratory Therapists (CSRT) conference in Halifax.
After coming across a smart phone app that acts as an asthma diary for patients and a data-gathering tool for researchers, Shirley immediately wanted to know the scientific validity of the app in question. The app claims to help asthma patients track their asthma triggers and identify their symptoms, however according to Shirley, there was no evidence that the app had gone through the rigorous peer-review process required of many other medical resources.
"We have Canadian Consensus Guidelines on how asthma should be managed," Shirley says. "Any of the Consensus Guidelines created for asthma management are evidence-based and peer-reviewed."
Asthma affects an estimated 15 per cent of Canadians
It's no surprise that many people with asthma go online in search of information about the condition, or turn to mobile apps to help manage it. Asthma is a complicated condition. It affects an estimated 15 per cent of Canadians and symptoms can be varying and complex. Triggers that cause asthma attacks can be subjective, and symptoms may differ from person to person.
Although the app she encountered comes widely lauded, Shirley is embarking on research to answer an important question: are apps useful tools to manage asthma, and could a standardized app be created based on peer-reviewed Consensus Guidelines to provide safe and patient-friendly resources?
For Shirley, one of the biggest challenges to the credibility of an app is the peer-review process. She says that although the app she initially looked at was created by a physician, it can be easy for non-medical professionals to create apps that claim to help asthma management. A quick search will show dozens of apps available with no indication of scientific accuracy, she says.
Despite this, Shirley maintains that there is huge potential for peer-reviewed, approved asthma apps to more safely help those with the condition.
"Many people don't take notice of their asthma symptoms until they get into the red zone, which is when they have to be admitted into the hospital," Shirley says. Whether or not they are taking their medication properly or avoiding their asthma triggers, "some people aren't taking the precautions they should be to manage their asthma."
Goal to advocate for development of a universal app for asthma educators and patients
Through her research, Shirley's goal is to advocate for the development of a universal mobile app for asthma educators and patients. A standardized app, she says, would educate patients on how to correctly take their medication and use specialized inhalation devices, and could help patients process the information they receive from their doctor and other health care professionals, including respiratory therapists and asthma educators, and educate themselves about their condition.
"If you have an app that's peer-reviewed and has input from an interprofessional healthcare team like pharmacists, dieticians, asthma educators, respiratory therapists and physicians, I think it would be very beneficial because patients can learn on their own time," she says.
Shirley's research supervisor, Kathleen Olden-Powell – a Respiratory Therapy professor at The Michener Institute and certified asthma educator – agrees.
"As a practitioner, I'm interested in any tool that will help people keep their asthma under control," she says. "It leads to a better quality of life for patients."
Shirley and Kathleen say that features such as demonstrations on how to use inhalers and other medical devices, understanding triggers and recognizing signs and symptoms, are all resources that could be made available through a peer-reviewed app approved by the healthcare community.
Although the app that Shirley and Kathleen have imagined doesn't exist yet, Shirley is excited to contribute to research that will prove it is needed.
Looking at the existing body of research into how social media, texting and online forums have aided asthma education, Shirley hopes to be able to provide insight into whether a standardized, peer-reviewed app could be a useful tool in providing optimal asthma care.