Respiratory Therapy Program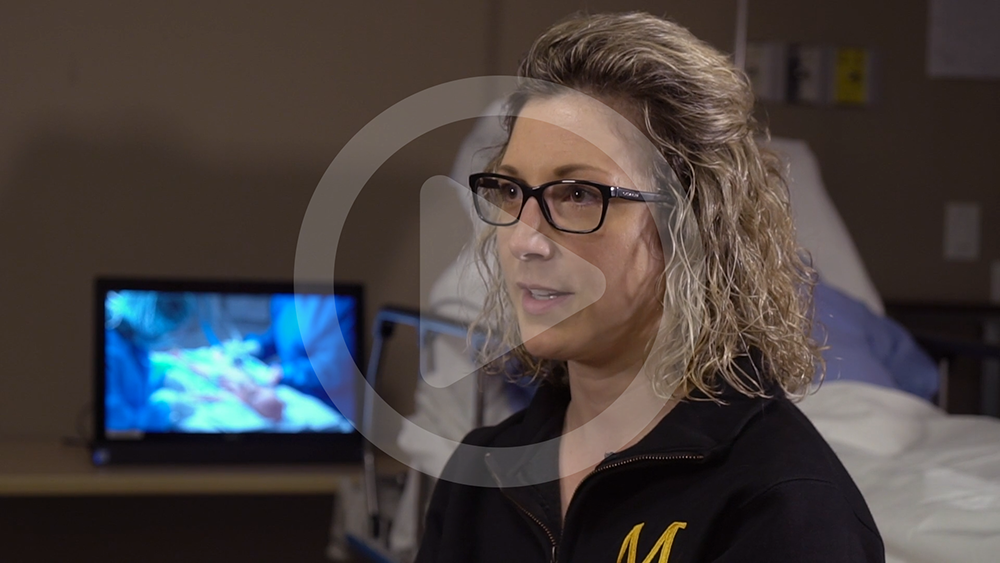 Program at a glance:
Credential Earned: Advanced Diploma
---
Program Length: 7 Semesters across 3 years (Full-time)
---
Program Delivery: On site with online components
---
Start Date: September 2024
---
Application Deadline: February 1, 2024
---
Program Code: MICH RS111
---
About the Program
Contribute to a world where your patients can breathe easier
During the first two years of the Respiratory Therapy program, Michener students have full access to practice labs equipped with the most current and advanced respiratory therapy equipment, ensuring the lab and simulation activities mirror clinical realities. Michener's intensive program covers all facets of entry-to-practice requirements ensuring graduates are job-ready.
Respiratory Therapy is a regulated health profession, to work as a Respiratory Therapist in Ontario, graduates must be registered with the College of Respiratory Therapists of Ontario (CRTO) . The program is accredited by Accreditation Canada and graduates are eligible to write the national examinations. With success on the national examinations, a Respiratory Therapist is eligible to work across Canada.
The Respiratory Therapy program is accredited by Accreditation Canada. Accreditation is a quality improvement process that ensures educational programs meet national standards and that students acquire the knowledge, skills, and competencies for safe and effective care at entry to practice.
"My time at Michener has been nothing but warm and welcoming! The program's integration with all fields of health care and its relevance to current global health issues has made me love it even more."
Take a Respiratory Therapy Virtual Tour
Apply now on ontariocolleges.ca
Admission Requirements
Whether the goal is to work in a critical care environment or a community setting such as rehabilitation and homecare, Michener's commitment to students is to instill the most current theory and the ability to execute those theories in a professional and accountable manner. Respiratory Therapists provide care to adults, children and newborns. In most cases, Respiratory Therapists work shifts that may be 10-12 hours long, and are a combination of days and nights and include weekends.
Respiratory therapists work in a variety of environments, including critical care units, emergency departments, operating rooms, diagnostic testing laboratories, rehabilitation programs and asthma clinics, homecare companies and pharmaceutical or medical equipment sales.
When you enroll in the Respiratory Therapy program you will study a variety of subjects, including cardiopulmonary diagnostics and rehabilitation, pulmonary ventilation, pharmacological therapies, adult, pediatric and neonatal critical care.
You will learn integral skills for the field, including using medications, therapies and assessments to assist in the prevention, diagnosis and treatment of heart and lung disease, and how to use mechanical ventilators and other life support equipment to sustain life.
For detailed course descriptions please see the Respiratory Therapy Curriculum page.
Length: 31 weeks
Start: Late August
End: April
You will be assigned to a clinical placement site(s) through Michener's Office for Clinical Education. This process begins with an information session in the first semester of your program.
As clinical education is a major component of all Michener programs, our affiliated clinical sites are integral to your education. They include teaching and community hospitals and home care companies across Ontario. Working closely under the supervision of Respiratory Therapists, you will have the opportunity to integrate knowledge and skills into practice during the clinical phase of your program. Clinical placements give you hands-on experience in work environments and the opportunity to network with potential employers.
You will be placed in more than one clinical site during your clinical placement period, based on the required clinical competencies for your program and the range of services at the clinical sites.
For more information about Clinical Education, please see Michener's Clinical Education Model page.
N95 Respirator Fit Testing
Michener will make all arrangements for testing prior to your clinical placement
Please note: You must be successfully N95 respirator-fit tested prior to clinical placement (testing dates will be arranged through Health Services). Testing requires students to be clean-shaven. Failure to comply with this requirement will result in your clinical placement and/or program being interrupted, delayed or terminated. Students are required to wear an N95 mask in their clinical placements in year three.
Textbooks
Scholarship & Bursaries
Tuition