Respiratory Therapy Program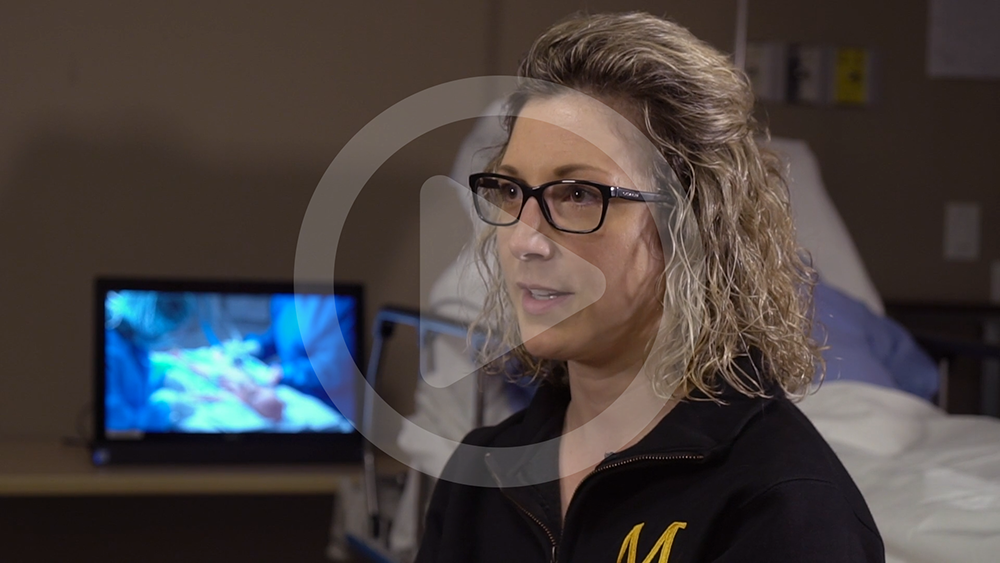 Program at a glance:
Credential(s) Earned
Advanced Diploma
Program Length
7 semesters over 3 years
Delivery Method
Full time - In person
Start Date
September 2021
Tuition
Application Deadline
February 1, 2021
Program Code
MICH RS111
Take a Respiratory Therapy Virtual Tour
Breathing – it's one of those things we take for granted. Rising levels of pollution, combined with an aging population, are making breathing difficulties more common. Respiratory Therapists are crucial members of the health care team who monitor and treat patients' cardiopulmonary needs.
Do you like variety? Respiratory Therapists (RT) provide a variety of care for adults, children and newborns. As an RT you would expect to:
Be an integral part of the cardiac arrest team
Be leaders in the use of mechanical ventilators and other life support equipment
Use medications, therapies and tests to assist in the prevention, diagnosis and treatment of heart and lung disease
Respiratory Therapists must have good communication skills and be sensitive to patients' physical and psychological needs. They must have critical thinking skills and problem solving skills and be able to function well as an interprofessional team member, as well as an autonomous clinician. They must be able to work under pressure with critically ill patients, as well as be patient and compassionate with patients suffering from chronic illness or receiving end-of-life care.
As with many health care fields, the aging population will increase the demand for Respiratory Therapists. Elderly patients suffer most from respiratory ailments and cardiopulmonary diseases such as pneumonia, chronic bronchitis, emphysema, and heart disease. In addition, advances in treating victims of heart attacks, accident victims, and premature infants (many of whom are dependent on a ventilator during part of their treatment) will increase the demand for the services of Respiratory Therapists.
Respiratory therapy is a regulated health profession. To work as a Respiratory Therapist in Ontario, you must be registered with the College of Respiratory Therapists of Ontario (CRTO). The Michener Respiratory Therapy diploma program is approved by the CRTO and accredited by Accreditation Canada. Graduates are eligible to write the national examinations.
Job satisfaction. Whether helping a newborn baby to draw their first breath or helping an elderly patient with chronic lung disease, Respiratory Therapists make a real difference in patients' lives.
Variety. Respiratory Therapists provide care in many different situations and environments, from therapy for patients at home with emphysema or terminal disease requiring end-of-life care, to emergency care for victims of a heart attack, stroke, drowning, or trauma.
The Respiratory Therapy Program is a full time, entry to practice diploma program which is completed over seven semesters spanning 3 years. There is one student intake each year, in September. The diploma fills all of the requirements for an Advanced Diploma in Health Sciences (Respiratory Therapy).
Applicants to the Respiratory Therapy program must possess specific qualifications in order to be eligible for admissions. Please visit our Admissions Requirements by Program page for details.
See Admissions Requirements
The fee policy for Canadian students can found on the Canadian Tuition Fees web page.
Please note this program is currently not open to international applicants.
Tuition fees are based on the entire duration of the program of study. For your convenience, these fees have been broken down into three equal payments that can be made annually. Also, each annual fee can be split into two payments which will be due in the summer and late fall of each academic year.
When you enroll in the Respiratory Therapy program you will study a variety of subjects, including cardiopulmonary diagnostics and rehabilitation, the physics and dynamics of breathing, pharmacological therapies, adult, pediatric and neonatal critical care.
Check back regularly for course updates and links.
Courses
For detailed course descriptions please see the  Respiratory Therapy Curriculum page
YEAR 1:Semester 1 – Fall
APRS110 Human Anatomy & Physiology I
BPRS110 Basic Professional Skills
CVRS110 Cardio-vascular Diagnostics I
RSRS111 Respiratory Care Procedures I
[/column]
Semester 2 – Winter
BARS120 Basic Airway Management
CRRS120 Cardio-pulmonary Physiology
PFRS120 Pulmonary Diagnostics
PVRS121 Pulmonary Ventilation I
RSRS121 Respiratory Care Procedures II
[/column]
YEAR 2: Semester 3 – Fall
MDRS230 Disease Management I
PVRS230 Pulmonary Ventilation II
RMIP231 Research
RSRS231 Respiratory Care Procedures III
Semester 4 – Winter
MDRS240 Disease Management II
SPRS240 Specialty Practice I
SPRS241 Specialty Practice II
Semester 5 – Summer
CPRS250 Clinical and Simulation Practice
PPRS250 Professional Practice
SNRS251 Specialty Clinical Simulation
YEAR 3: Semester 6 – Fall
CLRS361 Clinical Practice
[/column]
Semester 7 – Winter
CLRS361 Clinical Practice
Program Outcomes
Achieve entry level competencies of the 2016 National Competency Framework (NCF)
Manage cardio-respiratory needs
Exhibit professional behaviour
Educate self, patients, families, colleagues and interprofessional teams
Collaborate with patients, families, colleagues and interprofessional teams
Uphold principles of quality, safety and wellness
Demonstrate critical thinking, analysis and problem solving
Integrate evidence based research into clinical practice
Length:             31 weeks
Start:                Late August
End:                  April
You will be assigned to clinical placement site(s) through Michener's Office for Clinical Education. This process begins with an information session in the first semester of your program.
As clinical education is a major component of all Michener programs, our affiliated clinical sites are integral to your education. They include teaching and community hospitals and home care companies across Ontario. Working closely under the supervision of Respiratory Therapists, you will have the opportunity to integrate knowledge and skills into practice during the clinical phase of your program. Clinical placements give you hands-on experience in work environments and the opportunity to network with potential employers.
You will be placed in more than one clinical site during your clinical placement period, based on the required clinical competencies for your program and the range of services at the clinical sites.
Clinical partner sites are subject to change, therefore, specific geographic regions may not be available at the time of your placement; other regions may be added. Please note that when you accept a seat in the program, you also accept to go to any of the program's affiliated clinical sites available at the time of your placement. In addition, you agree to comply with the following mandatory requirements which must be completed prior to the start of your clinical placement:
First Aid and CPR Certification for Health Care Providers
N95 Mask Fit Testing
Updated Vulnerable Persons Check (also required upon admission)
Updated TB Test (also required upon admission)
Michener highly recommends all students be vaccinated with influenza vaccine.  This vaccine may be mandatory at some clinical sites.  Students must follow clinical site protocol.
The Respiratory Therapy program is an Equal accredited program. The goal of accreditation is to ensure that programs enable their students to acquire the knowledge, skills and attitudes to function as competent health practitioners for the benefit of all Canadians. Accreditation, an external validation of program quality, is the public recognition that an educational program has met national standards. Graduating from an accredited program means that:
your education has met national standards
your program has patient care and student welfare at the forefront
your education is relevant to current healthcare practice
you have access to professional registration
you have attained the competencies required for entry to practice as defined by NARTRB
eligibility to write the National Certification Exam set by The Canadian Board for Respiratory Care
your education is recognized by employers and the public
you have greater mobility as a health science practitioner
Testimonials
"The Michener Institute Respiratory Therapy Program provided me with an incredible opportunity to learn my chosen health care profession in an environment geared towards my success. Being surrounded by other future allied health professionals created a unique situation that better prepared me for my future in health care. The cutting edge programs, access to wonderful clinical settings and supportive staff helped me grow and develop as a respiratory therapist and start my career off in the right direction."
"Michener's Respiratory Therapy Program provides great learning experiences and opportunities for personal and professional growth. Not only do you learn the core competencies for your program, but you have the opportunity to attend seminars and learn about professional practice, teamwork and the skills that prepare you to enter healthcare institutions."