The transition from the classroom to the professional workplace isn't easy for anyone. That's especially true in health care. It's one thing for students to go through patient simulations, but it's a different thing entirely when they have to work with real patients for the first time. Needless to say, the experience can be overwhelming and intimidating.
That's why clinical educators mean so much to Michener students. Their job is to make that transition as smooth as possible. Clinical coordinators and educators, a network of partners from different hospitals, labs and clinics from across the country, play an integral role in training students to reach their full potential. They work with students to apply the knowledge and skills acquired in the classroom into the clinical setting. As the main point of contact in a clinical placement, they have the power to make a student's first step into the professional field a positive and welcoming one.
On October 20th, we celebrated Clinical Educators' Day at Michener. The day was highlighted by an awards ceremony that recognized the best of the best: clinical coordinators and educators who have gone that extra mile in the past year to support their students in clinical placements in ways that are truly amazing.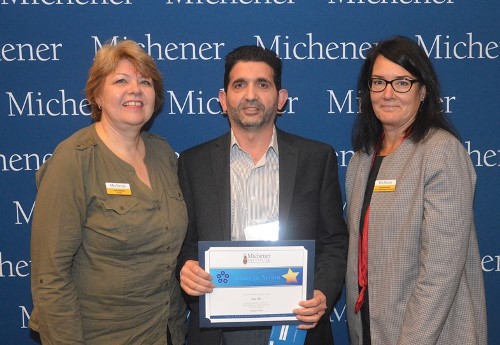 Among them was Isa Ali, an ultrasound clinical educator from Guelph Medical Imaging. He was one of 12 people who were recognized with an individual Excellence in Clinical Teaching and Supervision Award. For Isa, teaching isn't about telling students what they need to do or giving them information.
"My students already know everything," Isa says. "I'm just there to guide and encourage them."
This has a ring of truth to it for the student who nominated him. "Isa is always encouraging. He radiates positive energy and is always smiling," she writes in her nomination of Isa. On top of that, the student points out Isa's natural ability and comfort in a clinical setting. "He is excellent with patients; always going out of his way to make sure the patient is comfortable, satisfied, and at ease."
That's something that students notice across the board. When clinical educators are able to connect with their patients, they become positive role models. Students feel inspired when they see a clinical educator engaged in a high level of patient care, which suggests that the future of clinical care is in good hands.
For Isa, it's all pretty simple. "Just imagine your patients are someone you know, maybe a family member." Do that, he says, "and you'll scan your patients perfectly."
Excellence in Clinical Teaching and Supervision (Crystal Apple) Award Winners
Jason Liu, Clinical Coordinator at St. Michael's Hospital
Nicole Joseph, Clinical Coordinator at Balance Health Studio
Heather Cole, Clinical Coordinator at Royal University Hospital – Saskatoon
Laura Kononow, Clinical Coordinator at Rouge Valley Health System
Leonita Aguiar, Clinical Educator at North York General Hospital
Brian Leung, Clinical Coordinator at Lakeridge Health
Monica Van Larkin, Clinical Coordinator at Trillium Health Partners – The Credit Valley Hospital
Dionne Au, Clinical Coordinator at Mackenzie Health
Rhonda Gannon, Clinical Coordinator at St. Joseph's Health Centre – Toronto
Sandy Sculac, Clinical Coordinator at Mount Sinai Hospital
Cristina Neda, Clinical Coordinator at True North Imaging – Thornhill
Sharon Adams, Clinical Coordinator at St. Michael's Hospital
Culture of Inquiry Award Winners
Isa Ali, Clinical Coordinator at Guelph Medical Imaging
Eric Shipley, Clinical Coordinator at University Health Network – Toronto General Hospital
Cathy Scott, Clinical Coordinator at Rouge Valley Health System – Ajax
Laura Prince, Clinical Coordinator at St. Joseph's Health Centre – Toronto
Carolyn Trottier, Clinical Coordinator at Markham Stouffville Hospital
Carla Skupny, Clinical Coordinator at Markham Stouffville Hospital
Angela Hanson, Clinical Coordinator at Markham Stouffville Hospital
Chantal Newby, Clinical Coordinator at Trillium Health Partners – The Credit Valley Hospital
Stana Zuccaro, Clinical Coordinator at North York General Hospital
Frances Buryk, Clinical Coordinator at Metro Central Ultrasound

Values in Action Award Winners
Sonia Maragoni, Clinical Coordinator and Ian McLean, Clinical Educator at Simcoe Foot Clinic
Jim Marando, Clinical Coordinator at Niagara Foot Care Clinic
Natacha Mosler, Clinical Educator at The Hospital for Sick Children
Walter Scott, Clinical Coordinator at Hamilton Health Sciences – McMaster
Barry Eng, Clinical Coordinator at Hamilton Health Sciences – McMaster
Charlene Hendriks, Clinical Coordinator at Royal Victoria Regional Health Centre
Suganthini Ilaalagan, Clinical Educator at University Health Network – Toronto General Hospital
Jill Whitely-Lamb, Clinical Coordinator at Hamilton Health Sciences – Juravinski
David Markotich, Clinical Coordinator at Kingston General Hospital
Jayne Belanger, Clinical Coordinator at The Ottawa Hospital
Natalie Lauzon, Clinical Educator at Sunnybrook Health Sciences Centre
Mandana Mattin, Clinical Coordinator at Rouge Valley Health System – Centenary Site
Michele Sollen, Clinical Coordinator at Rouge Valley Health System – Ajax
Rose DiLeo, Clinical Coordinator at Michael Garron Hospital
Ronald Boudah, Clinical Educator at Sunnybrook Health Sciences Centre
Stella Keriazis, Clinical Educator at Sunnybrook Health Sciences Centre
Tara Fowler, Clinical Coordinator at University Health Network – Toronto General Hospital
Isa Ali, Clinical Coordinator at Guelph Medical Imaging
Stanley Wong, Clinical Educator at True North Imaging – Bay St.
Wendy Flanagan, Carina Feuz and Hollin Ng, Clinical Coordinators at University Health Network – Princess Margaret Hospital