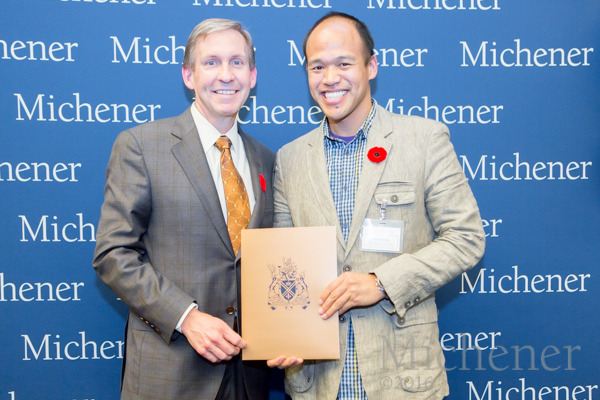 Fred Li was pursuing an academic career when he decided to make a change.
Fred had recently completed a Masters degree in Neuroscience at Dalhousie University and, disillusioned by what a career in academia offered, was working for the Nova Scotia Health Authority in the Department of Pathology and Informatics. It was there that he discovered the field of medical laboratory sciences – and The Michener Institute of Education at UHN.
While working with a number of medical laboratory technologists (MLTs), Fred was introduced to the medical laboratory science (MLS) profession and the role of MLTs in patient care. Moreover, he saw how closely the clinical work aligned with much of the research he conducted during his Masters degree, and how much of it immediately impacted patients.
"Becoming an MLT intrigued me greatly because it revealed an avenue for me to apply my extensive scientific training in a clinical laboratory setting," Fred says.
"This is what brought me to Michener."
This career shift is part of what awarded Fred with the Dr. Diana Michener Schatz Scholarship at Michener's annual Student Awards Ceremony last week. He was one of 45 students to receive an award at the event.
Once a year, the Michener community comes together to celebrate some of its best and brightest at the Student Awards Ceremony.  It celebrates student scholarship, award and bursary recipients, and honours the donors who make it all possible.
"This event reminds us of how extremely accomplished our students are, how wonderful our faculty and teachers are, and how that synergy produces the best and brightest for the future of health care," says Dr. Brian Hodges, EVP Education at University Health Network (UHN), acting as MC for the evening.
Named in honour of Dr. Diana Schatz, Michener's founder and first CEO, the Dr. Diana Michener Schatz Scholarship is one of the most prestigious student awards Michener offers. The award is given each year to students who have made a career transition to come to Michener, who have achieved academic excellence, exemplified innovative thinking and who have contributed to the betterment of the Michener community.
Fred says it's both incredibly humbling and an honour to be awarded the scholarship.
"Dr. Schatz saw the need for standardized education in the med lab field. She She also had the vision to train MLTs to go beyond their fundamental competencies and to continuously strive towards being able to provide the best patient care possible."
Now, as Fred completes his clinical placement at the Peterborough Regional Health Centre, he says that the support from the scholarships helps makes things a little bit easier.
"Being in Peterborough, where my clinical placement is, it helps cover costs like room and board," he explains.
"It also helped pay for my CSMLS (Canadian Society of Medical Laboratory Sciences) exam. It helps to pay off some of the tuition. It helps in more ways than one."
As for the career transition, Fred knows the move was the right decision.
"I wanted a job that I knew I'd enjoy going to every day," he says. "And a career that I knew I could help make a difference and be proud of."
The 2016 ceremony saw 63 scholarships, awards and bursaries awarded to 45 students. Thanks to the generosity of the donor community and in recognition of the exceptional performance of students, Michener awarded over $73,000 in scholarships, bursaries and awards.