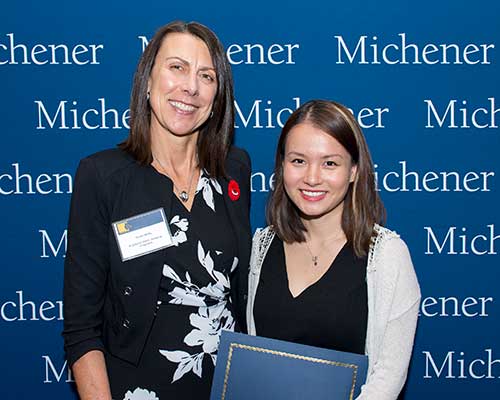 Please refer to our Frequently Asked Questions (FAQ) and the criteria for each scholarship before you apply.
Thanks to the generous support of our donors, Michener offers over $84,000 in scholarships, bursaries and awards for students enrolled in full-time programs at Michener.
Michener offers a range of scholarships and awards that recognize a student's academic achievements. We invite all students to apply for as many scholarships, awards and bursaries they are eligible for as outlined in the criteria for each award.  Students must submit an application form, indicating all of the scholarships, awards and bursaries they wish to be considered for, and include the requisite financial need/bursary application form.
Recipients are selected by the Scholarships & Awards Committee in accordance with the award criteria outlined below. The awards are presented at the annual Student Awards Ceremony held in the fall of each year.
All award information is based on the most recent information available at the time of publication. As new awards become available, they will be posted on this page. The value and availability of awards are subject to change at the discretion of both the donor and The Michener Institute.
OSAP recipients are reminded that they must notify OSAP immediately of any changes in income, assets, or living arrangement. These changes could result in a reassessment of OSAP entitlements.