Clinical Recognition Awards thank the clinical coordinators and educators who go the extra mile for Michener's students
For many of the full-time students at The Michener Institute of Education at UHN, clinical placements are the first opportunity they have to put the knowledge and skills learned in the classroom, labs and simulation exercises into practice. It goes without saying that the time spent in clinical placements can be incredibly stressful, challenging, and also an invaluable learning experience.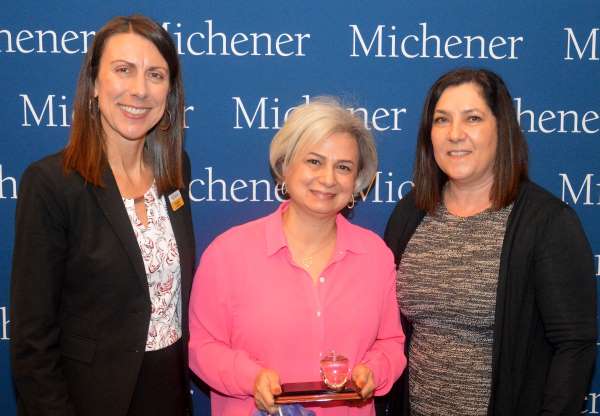 Helping to facilitate this stage of students' training are clinical coordinators and educators: those health care professionals across different clinical sites who oversee students' clinical placements and provide hands-on guidance. From supporting them through difficult cases and challenging situations, to ensuring they receive a full breadth of experience before they graduate, Michener's clinical partners help shape students' first steps into practice.
On November 16, The Michener Institute celebrated its annual Clinical Educators' Day. In addition to keynote speakers, the day was highlighted by the Clinical Recognition Awards: a special event that recognizes the clinical coordinators and educators who go above and beyond their regular jobs to support and mentor Michener's students through their clinical rotations.
Among the educators recognized was Taraneh Jorjany, the clinical coordinator for the Radiological Technology program with the Department of Medical Imaging at Sunnybrook Health Sciences Centre.
For Taraneh, both education and patient care share the same principle: focus on the individual. For patients, that means upholding patient-centred care. For her students, it's "understanding that each student is a unique individual with their own learning needs," she says.
For the student who nominated Taraneh for the Excellence in Clinical Teaching and Supervision Award, that approach to education had a significant impact on his journey towards becoming a radiological technologist. In his nomination letter, the student writes that Taraneh "always treats people with respect," a quality he says showcases her professionalism and enthusiasm.
Indeed, when it comes to teaching her students how to work with and care for patients, one of the most important lessons Taraneh passes down is simple: "Treat patients in a way that you would like to be treated."
Taraneh, a two-time recipient of a clinical recognition award, says that this recognition is still an honour. "It makes me feel that I was able to make a positive impact on somebody's life," she says. "It feels great when your hard work has paid off."
2017 Clinical Recognition Award Winners
Excellence in Clinical Teaching Supervision (Crystal Apple) Award Winners
Agnes Wozniarski, Genetics Technology, Mount Sinai Hospital
Jaimelyn Rara, Medical Laboratory Science, University Health Network – Toronto General Hospital
Malek Hamdani, Medical Laboratory Science, St. Michael's Hospital
Michelle Cornect, Medical Laboratory Science, Mount Sinai Hospital
Jeanette Chee, Nuclear Medicine and Molecular Imaging Technology, St. Michael's Hospital
Sara Zarazun, Radiological Technology, Humber River Hospital
Taraneh Jorjany, Radiological Technology, Sunnybrook Health Sciences Centre
Adrien Boutin, Ultrasound St. Michael's Hospital
Jennifer Cox, Ultrasound Kingston Health Sciences Centre
Excellence in Clinical Teaching and Supervision Team Award Winners
Brian Harper and Konya Kayet, Chiropody, Newmarket Foot Centre
Edward Sun and Douglas Hussey, Nuclear Medicine and Molecular Imaging Technology, University Health Network
Kerry Maddix and Brian Leung, Radiation Therapy, R.S. McLaughlin Durham Regional Cancer Centre
Lindsey Banks and Jodie Phillips, Respiratory Therapy, Sunnybrook Health Sciences Centre
Cheryl Ibbett and Lesley Luck, Ultrasound, Markham Imaging Consultants
Respiratory Therapy Department at William Osler Hospital William Osler Hospital
Stana Zuccaro, Tim Dang, Lourdes Chang, Bo-Kay Chow, Ultrasound, North York General Hospital – Branson Site
Values in Action Award Winners
Odeta Ramadani, Nuclear Medicine and Molecular Imaging Technology, St. Joseph's Health Centre
Carina Feuz, Radiation Therapy, University Health Network – Princess Margaret Cancer Centre
Cara Leis, Ultrasound, St. Michael's Hospital
Isa Ali, Ultrasound, Guelph Medical Imaging
Sharon Adams, Ultrasound, St. Michael's Hospital