Crystal Apple and Values-in-Action awards recognize Michener's clinical partners for their positive impact on students
Michener's clinical placements are often the first opportunity that students have to interact directly with patients and put knowledge learned in the classroom to practice in the clinical setting. Clinical Educators facilitate this process, providing hands-on guidance to the next generation of healthcare professionals.
For Radiological Technology student Desmond Chau, his clinical placement at Lakeridge Health in Oshawa transformed his perspective of his education and his future career, thanks to Clinical Coordinator Gail Sharko.
Gail's commitment to her students goes above and beyond, says Desmond. "Many of the staff were, at one point, one of her students," he wrote in his nomination for Gail's Crystal Apple Award. "It is clear that she has left a lasting impression on all of them."
Desmond's nomination was inspired by Gail's focus on patient-centred care, he wrote. "She was less critical about the technical aspects of our profession and focused on the humane aspects of our profession."
"We're going to have better professionals in the future if we can keep to the original roots of patient-centred care," Gail believes.
Equally important for Gail is that students understand the true impact of their education and continue to learn. "It's a sense of purpose to continue on with the academics," Gail states. "You're going to go back and all that physics stuff that you didn't think you needed, now you know you need it. There is a purpose because there's a pot of gold at the end of the rainbow."
Michener students nominate Clinical Coordinators and Educators for the Clinical Recognition Awards to thank them for the invaluable mentorship they received during the clinical phase of their program.
For many Clinical Coordinators, the recognition that Clinical Educators receives from their students is more meaningful than professional recognition. "I'm passionate about teaching, so I was thrilled when I got a Crystal Apple," says Ann-Marie McLaren, Clinical Coordinator at St. Michael's Hospital Foot and Wound Clinic.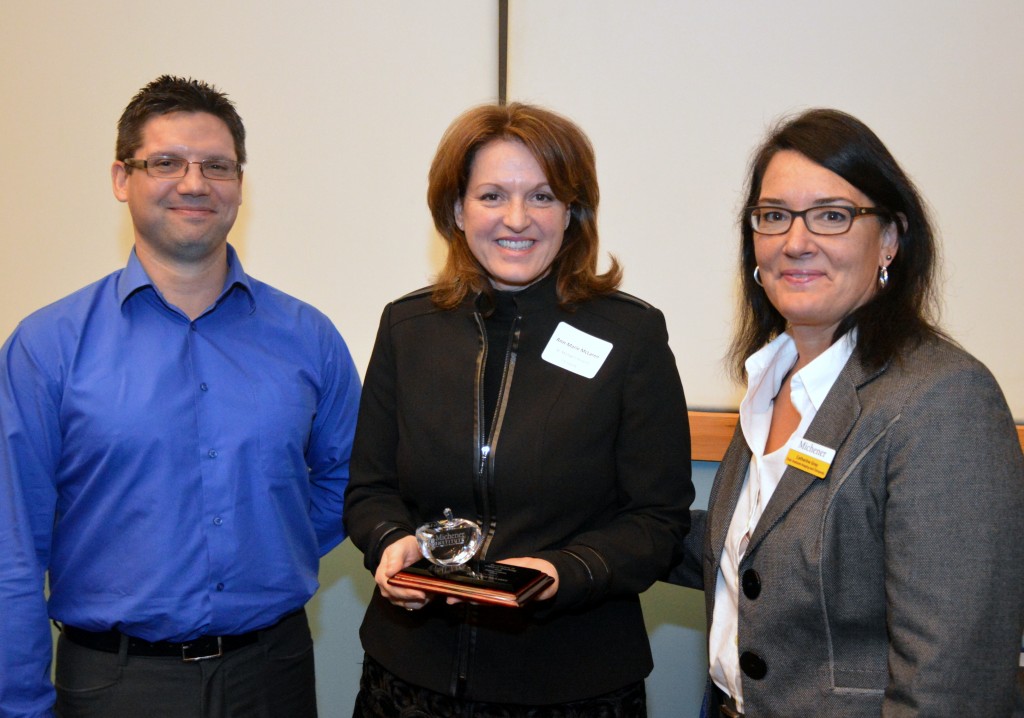 She remembers what it was like when she was a student at Michener and she brings that to her teaching. Jason Liu, a recent graduate from Michener's Chiropody program, nominated Ann-Marie for the Crystal Apple Award for her refreshing approach to teaching. "She finds ways to challenge the way you think about foot and wound care," he wrote in the nomination.
"You always think about what it's like to be a student, and what they're all going through, and I try to really think about that when they're in a clinical setting with me," Ann-Marie says.
Ann-Marie and Gail are two of eight Clinical Coordinators and Educators who received Crystal Apple Awards for their excellence in teaching and supervision at this year's Clinical Educators' Day at Michener on November 13. Over 180 attendees gathered for clinical education-focused sessions along with Michener's annual Clinical Recognition Awards.
Nine additional Clinical Coordinators and Educators received Values-in-Action awards to celebrate their dedication to Michener's values and two Clinical Coordinators received the Team Innovation in Clinical Education Award.
"The awards recognize our clinical educators for the outstanding contribution to the clinical education of our students," says Cathy Babiak, Michener's Clinical Liaison Officer.
Says Gail, "I look in that room and I see people who are committed to patients and students, and I know we're all doing the right thing."
Find out more about clinical education at The Michener Institute and how to become a clinical partner
Excellence in Clinical Teaching and Supervision (Crystal Apple) Award Winners
Ann-Marie McLaren, Clinical Coordinator at St. Michael's Hospital Foot and Wound Clinic
Jim Marando, Clinical Coordinator at Niagara Foot Care Clinic
Peter Kornherr, Clinical Coordinator at Gamma Dynacare Medical Laboratories – Ottawa
Karen Moline, Clinical Coordinator Sunnybrook Health Centre Odette Cancer Centre
Michele Killen, Clinical Coordinator at Peterborough Regional Health Centre
Gail Sharko, Clinical Coordinator at Lakeridge Health
Darlene Baldaro, Clinical Coordinator at North York General Hospital
Jazz Bhatia, Clinical Educator at Toronto East General Hospital
Team Innovation in Clinical Education Award Winners
Jeff Dionne, Clinical Coordinator at St. Joseph's Health Centre
Sarah Enriquez, Clinical Coordinator at St. Joseph's Health Centre
Values-in-Action Award Winners
Sally Ciona, Clinical Educator at Ottawa General Hospital Rehab Centre
Ian McLean, Clinical Coordinator at Simcoe Foot Clinic
Carina Feuz, Clinical Coordinator at University Health Network Princess Margaret Cancer Centre
Marnie Peacock, Clinical Coordinator at Sunnybrook Health Centre Odette Cancer Centre
Christopher Chernets, Clinical Coordinator at St. Joseph's Health Centre
Gwen Llewellyn, Clinical Coordinator Scarborough General Hospital
Lynn Smith, Clinical Educator at Lakeridge Health
Heather Vanderburg, Clinical Coordinator at Georgian Radiology
Robyn Klages, Clinical Coordinator at William Osler Health System