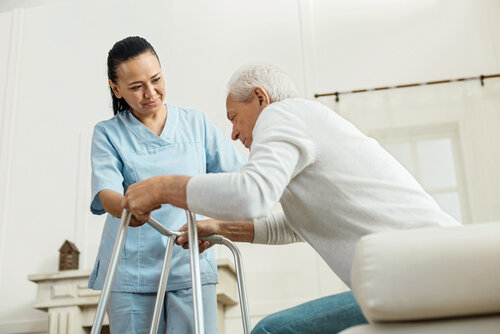 As part of a partnership between the University of Toronto's Centre for Advancing Collaborative Healthcare and Education (CACHE), The Institute for Education Research (TIER) at UHN and Centennial College, interprofessional groups of students from health science programs at the University of Toronto (U of T) and the Centennial College Personal Support Worker (PSW) program have collaborated to create PSW-partnered advocacy and interprofessional education projects.
The projects began as Senior Interprofessional Projects offered by CACHE – an optional program for senior health profession students that provides an opportunity to partner with a community organization to address an area for future development while advancing collaborative leadership and interprofessional team competencies. The projects ran from January to March 2022, but four of the groups have now carried on their work beyond the official project completion.
One of the projects was developed by students Danielle Block, Nikita Burman, Ashwinie Sivakumar, Valerie Soliven, Arthur Gilles and Onyinyechukwu Esenwa. Their goal was to raise awareness of the increased risk of slips and falls that PSWs who work in the community face during the winter months, as well as the psychosocial and physical impacts these incidents have on workers, organizations and patient care.
"I read a research article from the KITE Research Institute at University Health Network (UHN) indicating how frequently community PSWs slip and fall due to icy conditions," says second-year Occupational Therapy student Danielle Block. "Their research promoted slip-resistant footwear that they had tested in their lab. I found this really interesting because it's a simple prevention method for an issue that isn't commonly discussed."
Their project, titled Step Into My Shoes, involved partnering with the community organization Rate My Treads – a lab in Toronto that analyzes the slip and fall effects of winter boots and footwear – to advocate for PSWs to wear quality footwear during the winter. The project targeted footwear companies to encourage them to provide discounts on quality winter footwear for PSWs, PSW agencies to provide extra funding for winter footwear and protection and the general public (through patients and their families) to inform them about the risks that their health care providers take on.
"PSWs are an integral part of the health care team and the amount of time they spend with patients creates potential for the development of a relationship and access to knowledge that can be extremely valuable for patient care," says third-year Doctor of Medicine student Onyinyechukwu Esenwa. "PSWs work conditions ought to be improved, as these conditions can have an impact on their health and wellbeing."
Through this experience, the goal is that students will develop new relationships, share their ideas with executives of organizations (sometimes at the national level) and learn to value the perspective of those who use the services of an organization.
"By diving into a problem together, the students develop a stronger understanding of each other's professional contributions and perspectives, as well as the potential to work together in the future," says Sylvia Langlois, Associate Director of Curriculum and Faculty Relations at CACHE. "They build confidence in their ability to address challenges collaboratively and how to present their ideas professionally."
All of the student projects will culminate in a PSW awareness month in May 2023.
These projects, as well as related resources, would not have been possible without a grant from the Future Skills Centre. Stay tuned for details on another one of the student projects in the next installment of this series celebrating the advocacy projects.