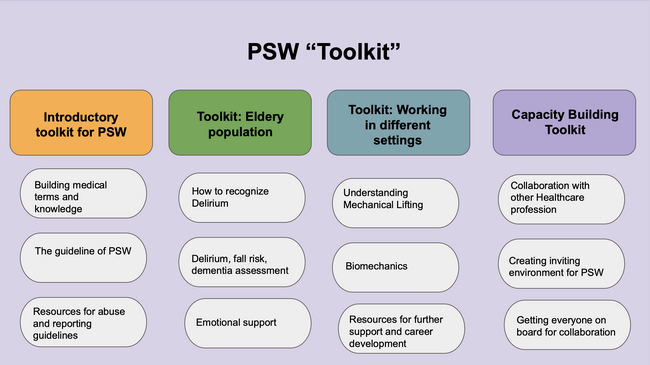 As part of a partnership between the University of Toronto's Centre for Advancing Collaborative Healthcare and Education (CACHE), The Institute for Education Research (TIER) at UHN and Centennial College, interprofessional groups of students from health science programs at the University of Toronto (U of T) and the Centennial College Personal Support Worker (PSW) program have collaborated to create PSW-partnered advocacy and interprofessional education projects.
One of the groups consisted of students Tasnim Abdalla, Amy Nhkum, Diana Jugowiec and Linda Tachie-Mensah, who focused their project on creating a PSW Recognition Month that will occur in May 2023, with the goal of raising awareness of PSWs and what they do.
"Our group conducted interviews which highlighted many complex challenges facing PSWs in Ontario, such as being undervalued and facing workplace violence and mistreatment," says Doctor of Medicine student Tasnim Abdalla. "We wanted to build a tradition that can hopefully lead to PSWs gaining more support from their organizations and unlocking systems-level change."
"We realized that many health professions have a dedicated recognition week or month, but PSWs currently do not," says second-year Occupational Therapy student Diana Jugowiec. "Our project sought to provide a way to promote a greater appreciation of PSWs within health care settings and communities."
The group's main goal throughout the month-long campaign is to promote inclusivity and emphasize the importance of teamwork and collaboration.
"With regards to training, we heard that some PSWs wanted more training on certain health care topics," says Amy Nkhum. "We aimed to tailor educational topics throughout the month to meet this request."
Week two focuses on providing modules about various topics. Week three focuses on activities to celebrate the work of PSWs, while week four emphasizes the importance of building better teams.
Ernie Chisamore has spent several years caring for his wife who lives with dementia. Last year, he learned about an opportunity through UHN to share his story and to what extent he feels like he's part of a medical team with first-year students.
"My wife has been in a memory care facility for three years now and I've seen how involved the PSWs are in her care," he says. "They're there on the front line and it's more than just helping people shower and get dressed. They do so much by communicating with the patient's care team about what's been going on, speaking with their pharmacist or nurses and raising the red flag when there's an issue."
Ernie was later contacted by Associate Director of Curriculum and Faculty Relations at CACHE, Sylvia Langlois, to ask if he would like to be a mentor to students and provide feedback on Senior Interprofessional Projects.
"I said absolutely because I'm often preaching about how much I appreciate the PSWs that care for my wife," he says. "My general sense is that many people don't understand dementia well or the challenges of caring for someone with dementia, so I think the goal of having different healthcare professions listen to and learn from each other in the context of long-term care is very valuable."
All of the student projects will culminate in a PSW awareness month in May 2023.
These projects, as well as related resources, would not have been possible without a grant from the Future Skills Centre. Stay tuned for details on another one of the student projects in the next installment of this series celebrating the advocacy projects.