Cervical cancer is one of the most common cancers among Ontario women, but it's also the most preventable. In fact, nearly every case of cervical cancer is caused by a small handful of human papillomavirus (HPV) types that, when caught early, can be treated to prevent progression to cancer.
For years, physicians have screened for cervical cancer using the "gold standard" Pap test. The cytological test, performed by a subset of medical laboratory technologists called cytotechnologists, examines cervical cells to detect abnormalities or precancerous conditions. The test helps to identify women who require treatment to prevent abnormal and precancerous cells from progressing to cervical cancer.
However, in recent years researchers have established that infection of cervical tissue with certain subtypes of HPV is almost always a necessary precursor to cancer development. It has therefore become generally accepted that screening for HPV should be an early step in the overall cervical cancer screening process. Without HPV, a woman's likelihood of developing cervical cancer is almost zero, thus precluding the need for further screening for a significant period of time.
In Ontario, these recent and proposed changes have had major impacts upon screening processes, workflow, workforce and educational needs.
On November 27, The Michener Institute hosted the Trends in Molecular Cervical Cancer Screening, Diagnostic Cytology and Education Forum to address these changes. The forum brought together cytotechnologists, cancer care experts, policy analysts, decision-makers and education leaders to talk about changes to HPV and cervical cancer screening. It was an opportunity to generate discussion and ideas to prepare for the future of cervical cancer screening.
Dr. Joan Murphy of Cancer Care Ontario and Dr. Shelley Deeks of Public Health Ontario joined Michener to share evidence-based recommendations for the future of cervical cancer and HPV screening.
Changes to screening processes effect workflow, workforce and education needs
Cancer Care Ontario estimates that every year in Ontario, 640 women will be diagnosed with cervical cancer and 150 will die from the disease.
"Those numbers are relatively low, and that's because of the success of screening," said Dr. Joan Murphy, Clinical Lead of the Ontario Cervical Screening Program at Cancer Care Ontario, in the keynote session at the forum.
"But it's still way too many," she adds. "Because we know now that it's almost completely preventable."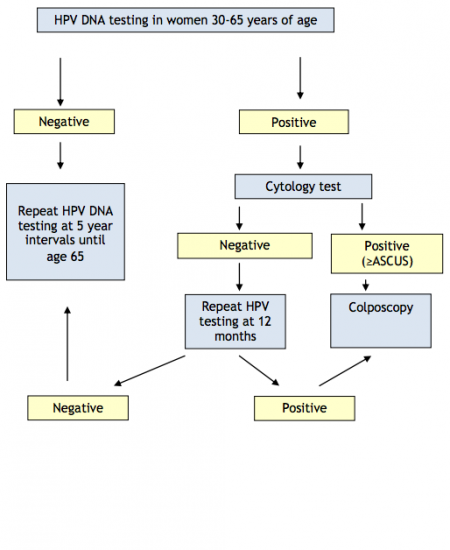 As the first cohort of Ontario's grade 8 HPV immunization program turned 21 in 2015, instances of cervical cancer are expected to decline in the coming years. As HPV moves to the forefront of cervical cancer screening, proposed recommendations from Cancer Care Ontario suggest using a molecular HPV test as a first step in a triage to screen for cervical cancer. If a woman tests negative for HPV, she will be screened at less frequent intervals, up to five year gaps at a time. If she tests positive for HPV, proposed recommendations say she will then move onto the Pap test. The results from that test will determine if she continues with HPV testing at regular intervals, to see if the HPV clears on its own, or if she will continue on to the colposcopy or cervical biopsy stage.
As of today, the HPV test is not publicly funded, nor is it part of Ontario's regular cervical cancer screening program. That may change as future guidelines and recommendations for cervical cancer screening are introduced.
The Michener Institute is one of only two schools in Canada that teaches diagnostic cytology, the profession that performs testing for the Pap and, potentially in the future, molecular HPV testing.
"We have an interest in this issue, but our interest is not driven by anything other than education," says Catherine Brown, diagnostic cytology professor at The Michener Institute. "We need to know what the health care system wants to do so we can educate our students with the right information."
"The forum was an opportunity to start a discussion, and we hope that dialogue will continue," she adds.
Being proactive towards potential changes in HPV and cervical cancer screening, Michener introduced a molecular theory course to its diagnostic cytology students in September 2015. The course will be followed up in January 2016 with practical lab experience where students will learn how to perform molecular HPV testing.
Did you know?
Nearly 100% of cervical cancer cases are attributable to high-risk HPV infections.

HPV is the single most common sexually transmitted infection. It is spread by intimate skin-to-skin contact and affects an estimated three quarters of the population at some point during their lifetime. For some, HPV can cause genital warts or can lead to cancer. For most people, HPV infections are completely asymptomatic and will clear without any intervention.
Gardasil, the vaccine used in Ontario's HPV immunization program, currently vaccinates against four types of HPV: types 6, 11, 16 and 18. According to Public Health Ontario, HPV types 16 and 18 cause 70% of cervical cancers and HPV types 6 and 11 cause 90% of genital warts.
According to Dr. Shelley Deeks, Medical Director of Immunization and Vaccine-Preventable Diseases at Public Health Ontario, an improved HPV vaccine is expected to be introduced into the vaccination program. The new vaccine, Gardasil-9, provides protection against an additional five high-risk HPV types (31, 33, 45, 52 and 58).