By Vanessa Brunato and Alexandra Elliott, Third Year Chiropody Students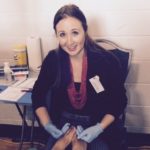 As chiropody students, we are often asked the question, "What made you decide you want to work with feet?" We all seem to have a standard, go-to response to this question. Some outline the fact that chiropodists are primary health care practitioners who operate their own practices and work independently. Others note that the profession can be incredibly rewarding. Some discuss the day-to-day variety of working as a chiropodist.
Whatever the answer we give, the bottom line is this: feet are pretty important. Aside from their obvious function facilitating mobility, feet have other important roles in health. Sometimes, a small symptom or change in the foot can signify the presence of a much larger problem with the body, such as a systemic condition. In the field of chiropody, we are given the opportunity to work with many different subsets of the population, and to be a first-line practitioner in different communities with many varying needs.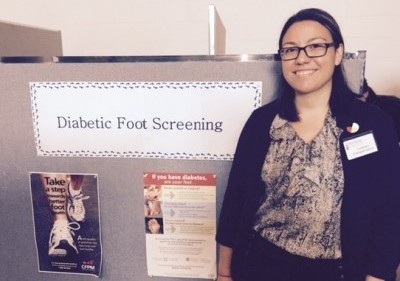 One such community is Chippewas of Rama First Nation. Located 90 minutes east of Toronto, this community has a population of approximately 1,500 and sits on the eastern shore of Lake Couchiching. Chippewas of Rama First Nation are self-described as a progressive First Nation community and are committed to improving the vitality of their community through a variety of initiatives, including health promotion, enhancing health care facilities within Rama First Nation and improving accessibility to community services.
To support this initiative, Rama First Nation held a community health fair on Thursday, September 24, and The Michener Institute Chiropody department decided to take part by providing free foot assessments to the public with registered chiropodist Ed Moloy.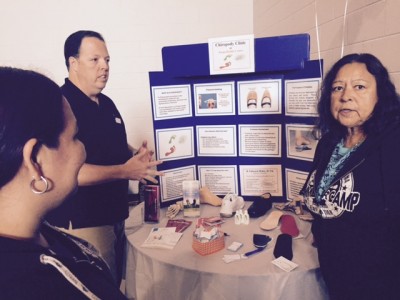 Our attendance at the Rama First Nation's health fair was informative and eye-opening. We had the opportunity to meet the community elder, a respected member of Rama First Nation, whose role is to mentor and uphold aboriginal culture and beliefs. We also learned how to approach health care within this unique subset of the Canadian population. For instance, diabetes is a disease that affects many aboriginal peoples and sometimes discussing this condition with First Nations groups can lead to feelings of mistrust and stress. Like all other populations, it is important when providing education to know the audience and find ways to make the topic both interactive and non-threatening.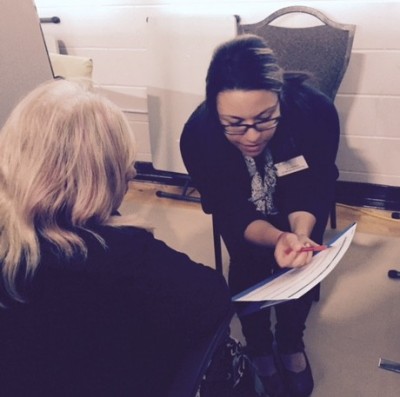 The Southern Ontario Aboriginal Diabetes Initiative (SOADI) has developed a method to accomplish this through the creation of an educational series of pamphlets that link the varying areas of diabetes management to different animals. Foot care and diabetes within the Aboriginal community is represented by the rabbit. The rabbit provides comfort and tries to eliminate negative feelings, nervousness and fear. By approaching conversation in this manner, the health care practitioner is able to promote foot health and try to encourage a safe environment where members of the community will not be afraid to seek professional help when needed and have their feet examined.
Our experience at the Rama First Nations Health Fair taught us an invaluable lesson: successful health care delivery can only be accomplished through effective communication and, sometimes, the traditional form of health care communication is simply insufficient. Future chiropodists and other health care practitioners who aspire to work with First Nations communities are encouraged to work with organizations such as SOADI in order to develop an approach to health care delivery. By changing our approach to communication we might be able to improve voluntary attendance of at-risk community members which will help to advance the overall health care landscape in Canada.